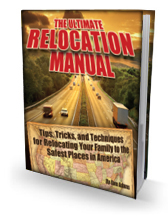 Thomson, IL (PRWEB) January 22, 2013
Solutions From Science just released a brand new book to educate people on the reality of relocation. The book is called, The Ultimate Relocation Manual. Inside the book, the author gives tips, tricks, and techniques for relocating your family to the safest places in America.
Year after year, news organizations such as YahooNews, CNN, and Reuters (just to name a few) produce articles that show people the Best Places To Live or the Worst Places To Live. In fact, on September 28, 2012 Businessweek published an article titled, Americas 50 Best Cities. Each article is based on an algorithm that evaluates a series of data points and assigns a percent value to each possible outcome. According to Bill Heid, founder of Solutions From Science, the problem with this is that it is a generic value and it does not take into account any individual wants or needs.
This important new book by Solutions From Science allows the reader to customize their reading experience. The book was commissioned to educate readers on the best possible location for them based on each individuals preconceived dispositions. Maybe someone just suffered through Hurricane Sandy or they have been unfortunate enough to have a wildfire rip through their home, their memories, and their lives. Nobody wants to go through something like that again and they should not have to live with the fear of experiencing that devastation again, said Heid.

On page five of the new book it states, [Your] questions will perpetuate your learning. The more you analyze and contemplate about your specific situation, the more you will learn about your strengths, weaknesses, and the avenues available to you to grow and thrive.
What we attempted to do with this book is take all of the guess work out of finding a great place to relocate your family to minimize fear. We are living in a world today where fear is striking us from all angles. People want to relocate for financial reasons or a fear of tornados or even political reasons. People decide to relocate and they have a goal in mind; this book aims to help them reach that goal and live peacefully with their family, Heid explained.
If you have ever considered relocating your family for any reason or maybe just like the idea of finding a safer place to live, check out the new Solutions From Science book, The Ultimate Relocation Manual at http://www.SafePlacesUSA.com/?utm_source=PR&utm_medium=PR&utm_campaign=PR12213.