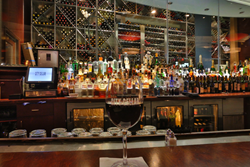 West Palm Beach, FL (PRWEB) January 20, 2014
For years, the restaurant industry has been plagued with poor portrayals on bogus review platforms and star rating websites. In the past, one bad customer experience could be exploited online and completely destroy a restaurants reputation. As a result, Hot Spots was created and just launched to help in exposing the hottest places to go in Palm Beach County.
Through a strategic mix of marketing tactics, SoVi Digital has quickly transformed the restaurant industry in South Florida. Hot Spots is an online publication that places focus on the promotion of the best places to go in Palm Beach County. By establishing a local online community, restaurants are able to showcase an accurate review of their foods, drinks, and overall atmosphere. Hot Spots was born when David Starr, once SoVi Digital intern and now full-time photographer and social media maven, had a vision of a community where people could talk about the best "hot spots" in Palm Beach County. Starr revealed that, "a true passion of mine is being able to expose new restaurants to people that may not have ever thought to go and try it."
Once the concept was born, SoVi Digital built a website under the url http://www.BestHotSpots.com. With the website now live people can go to each restaurants profile and rank their favorites. Hot Spots now serves as a platform that is built not on the number of "stars" or good/bad reviews, but rather as a "hot spot" based upon how many times the restaurant is ranked. In the initial launch via Facebook, SoVi Digital distributed free gift cards to the current "hot spots" which vastly increased exposure for these restaurants. Moving forward, restaurant owners will have the opportunity to be featured and promoted on Hot Spots Facebook page, the website and weekly newsletter. Chris Miquel, Co-Founder & CMO of SoVi Digital, sheds light on the Hot Spots project stating, "Working with our restaurant clients we realized how many bogus reviews were being made on sites like Yelp, Trip Advisor, and Google. We were looking for a way to positively promote these restaurants without any false representation. My goal is to have people go to these places for what is good about them, not to be deterred because of something bad that may have happened."
Hot Spots is looking for new restaurants to experience and feature on their community. The top ranking restaurants in Palm Beach County will be given a plaque to display in their establishment indicating that they have been voted as a "Palm Beach County Hot Spot". For more information, please visit the website Best Hot Spots and their Facebook page to start marketing your favorite Hot Spot today.
About SoVi Digital
SoVi Digital has built a winning reputation throughout South Florida and beyond with their fingers on the pulse of all things internet marketing, as the company ranked 2nd in the U.S. by Top SEOs Best In Search in January 2012. Placing heavy emphasis on the digital components of modern marketing, SoVi Digitals experienced marketers, savvy web gurus, and talented creatives are able to transform a companys brand presence with a singular focus on results. Using a unique approach, the company is able to capture leads at the right time, push them in the right direction, and track them each step of the way. SoVi Digitals comprehensive system combines cutting-edge marketing trends with proven methods to drive sales.