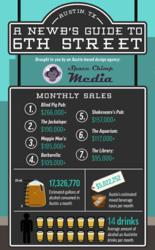 (PRWEB) November 20, 2012
Space Chimp Media, a leader in creative digital marketing and design, is pleased to announce the release of their infographic titled A Newbs Guide to 6th Street, which aims to help those seeking more information on Austin nightlife, specifically historic 6th street. This infographic details what newcomers to Austin nightlife can expect for bars, eateries, local transportation, and parking, in order to help them have a more enjoyable downtown experience.
As the population in Austin increases, so does the crowd downtown on any given night. Space Chimp Media recognizes that ones first trip into the exuberant Austin nightlife can be quite intimidating, and wishes to provide these newbs with a descriptive and visually appealing data visualization that allows them to hit the ground running. For this infographic, many of 6th streets most popular bars are shown with a sign above that gives the viewer information on daily drink specials. These specials can be quite the value for the consumer and are a great way to start the night.
Along with bar locations and drink specials, this infographic also provides information on how one might arrive downtown, transport themselves to and from each location, and means by which they can arrive home. From pedicabs to late night busses, the 6th street faithful rely on the public transportation and vehicle for hire services in order to arrive to and from the bars safely. Those who attend 6th street festivities need to do so responsibly, and these newbs have many safe alternatives to driving.
The Austin 6th street newcomer may also work up quite the appetite while enjoying the many attractions. From food carts to full on mobile eateries, many food vendors find a midnight home on the streets of Austin in order to supply food for those individuals leaving the bars late at night. As this infogrpahic shows, while most bars on 6th street close at 2am many foot trucks are open until 3am and will typically keep serving as long as there is a line.
Everyone in Austin knows what 6th street is. A sibling sites its epicness, social media details the evenings events, and friends wish you were old enough to go. Says Charles Haggas, CEO and head strategist at Space Chimp Media. Unfortunately the stories are not a blueprint, and those who are eligible to attend the attractions on 6th street need a more competent guide that doesn't just say what happened that one time at that one place.
This 6th street infographic is the first of many Austin themed infographics to be released by Space Chimp Media. The goal of this outreach is to share many of the great and interesting things to do in Austin with those who are unfamiliar with this city. Visit their website for more information on infographics by Space Chimp Media.
About Space Chimp Media

Based in Austin, Texas, Space Chimp Media is a creative marketing agency and web services company that specializes in integrated and results-driven campaigns. SCM and its brands specialize in eCommerce, mobile application marketing, local business marketing, social media, and business development solutions.