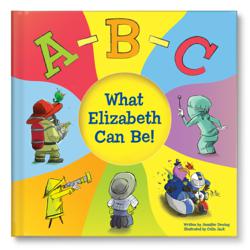 Minneapolis, MN (PRWEB) October 02, 2012
What do Preschoolers want to be when they grow up? The options are endless, as are their amazing imaginations! Nothing is more powerful than a parents hopes and aspirations for their childs future, and education experts suggest that parents read storybooks to their children that explore the possibilities. According to Mary Renck Jalenco of the National Association of Education of Young Children, parents should read storybooks to young children that introduce them to different careers and opportunities and make them aware of the contributions of individuals to society.
Book publisher I See Me! sparks childrens imaginations and helps them explore careers with the launch of their new A-B-C What I Can Be! personalized childrens book. This clever alphabet book covers a variety of things children can become A to Z, from an Astronaut to a Zookeeper. Children will especially love some of the more wacky and whimsical options presented like an inspector of pie, rodeo rider, window washer and secret agent.
A-B-C What I Can Be! is personalized with a childs name on the cover and throughout the story and illustrations. Just take a look at one of the pages from a book I See Me! made especially for a boy named Benjamin:
Benjamin, you can be many things that all start with a C A mighty ships Captain who sails out to sea a Carpenter, Caddy or birthday Cake baker, a Cellist, a Chemist, a Candlestick maker!
A-B-C What I Can Be! was illustrated by Colin Jack with a unique retro style and was written in humorous rhyme by childrens author Jennifer Dewing. The book is available personalized with a childs name at ISeeMe.com. I See Me! is even offering parents a free ABC coloring sheet.
According to I See Me! co-founder and CEO Maia Haag, A-B-C What I Can Be! builds self-esteem by showing the child at an early stage that with effort and determination, he or she can be whatever the child wants to be.
I See Me! celebrates the uniqueness of every child with its one-of-a-kind selection of personalized books and gifts. You can visit them online at ISeeMe.com and connect with them on Pinterest, Facebook, and Twitter.