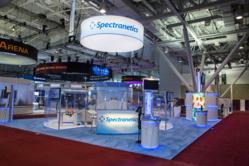 Colorado Springs, CO (PRWEB) May 02, 2013
May 8 through 11, Heart Rhythm 2013, the Heart Rhythm Society's 34th Annual Scientific Session, convenes in Denver, bringing together more than 8,000 attendees and the world's most noted experts in cardiac rhythm management. The Spectranetics Corporation (NASDAQ: SPNC), headquartered in Colorado Springs, will have a major presence to showcase their proprietary laser lead extraction technology and training.
Spectranetics was founded in Colorado Springs more than 30 years ago, and today the company develops, manufactures, markets and distributes single-use medical devices used in minimally invasive procedures within the cardiovascular system. The companys products are sold in more than 40 countries and are used to access and treat arterial blockages in the legs and heart, and to remove pacemaker and defibrillator cardiac leads.
A full day of the conference is dedicated to a Lead Management Forum, offering attendees the opportunity to explore practical aspects of lead development, implantation, follow up and extraction.
Conference highlights include:

Simulated cardiac lead laser extraction procedures in a replicated surgical suite in the exhibit booth. Over the three days of the conference, physicians will train on the equipment in both foundational and advanced scenarios to increase their proficiency in lead extraction techniques.
Physician speakers and round table in the Spectranetics Booth 1602:
Thursday, May 9, 10:00 a.m. Steven P. Kutalek, MD, FHRS, CCDS

Associate Professor, Drexler University Hospital and Hahnemann UniversityHospital in Philadelphia

"What to Do When You Can't Advance"
Thursday, May 9, 3:30 p.m. John A. Andriulli, MD, FACC

Cooper University Hospital, Camden, NJ.

"Considerations for Extracting Sprint Fidelis and Riata Leads"
Friday, May 10, 10:00 a.m. Round Table Discussion led by Dale Yoo, MD

"Starting a Program: Successful Lead Management from the Ground Up"
On Thursday, May 9, an abstract session Simulation Training Efficacy to Improve Extraction Performance (STEEP) will be presented by a team led by Dr. Melanie Matin.
In addition, the First Annual Worldwide Lead Management Collaborative Community Meeting hosted in conjunction with the Cleveland Clinic Heart & Vascular Clinic will take place on Wednesday evening, May 8, immediately preceding the opening of the HRS conference. Lead recalls and infected systems will be highlighted as key topics of interest.
According to Tom Daily, Director of Training, for Spectranetics, the training sessions at the Heart Rhythm Society conference and the year-round training offered by a mobile simulator unit respond to the needs of growing ranks of physicians performing lead extraction. "Over 4.5 million people worldwide have an implanted cardiac device, and 1 million new leads are implanted annually," said Daily. "Since their inception 50 years ago, these devices have improved quality of life and extended the longevity of many patients, often extending beyond the expected lifespan of the device itself. There are any number of reasons why leads may need to be removed, and Spectranetics is committed to providing the tools for safe, predictable lead extraction.
In the past year, Spectranetics has hosted 19 simulator events and trained 378 physicians. The company expects to double both the number of events and physician trainings in 2013.
The original Laser Lead Extraction Simulator was developed in partnership with Medical Simulation Corporation (MSC) in conjunction with MSCs SimSuite