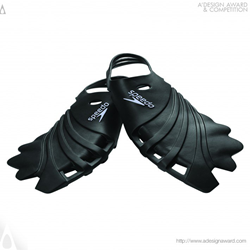 Como, Italy (PRWEB) April 27, 2015
A' Design Award and Competition is pleased to inform that the design project Nemesis Fins by Speedo USA has been announced as a winner of the Platinum A' Design Award in the Sports, Entertainment and Recreation Equipment Design Competition Category.
More on Nemesis Fins

Speedo USA, the creative team behind the awarded Sports Equipment project Nemesis Fins explained, The Nemesis Fin will become your greatest ally in the pool. The most comfortable fin on the market, with ergonomic foot pocket features and floating properties, which elevate the hips and feet into an improved streamline body position. Learn more and download high-resolution photos at: https://competition.adesignaward.com/design.php?ID=40832
Team Members for Nemesis Fins

Nemesis Fins was designed by I.D. Workshop: Don Reardon, Damon Clegg, Speedo: Kathleen Davis, Craig Stiff and Barry McGeough.
The Platinum A' Design Award

The Platinum A' Design Award is a prestigious award given to the top 1% percentile designs that have achieved an exemplary level of perfection in design. Entries to the A' Design Award & Competition are peer reviewed and anonymously voted by a 50-person jury panel consisting of academics, press members and design professionals. Designs that receive the highest scores are announced as winners after criteria based voting. Laureates of the A' Design Award & Competition are granted a series of public relations and publicity services such as inclusion in World Design Rankings, publicity through partnering design magazines in order to celebrate the status of winning the accolades. Laureates are also invited to attend the exhibition and gala-night in Italy in order to receive their trophies, design excellence certificates and the yearbook annuals.
About A' Design Award and Competition

The A' Design Award & Competition is the Worlds' most international design accolade, annually receiving entries from all countries. Within the last decade years designers, brands, companies and architects from all major countries were awarded with an A' Design Award. The A' Design Award aims to create a global awareness for good design practices and principles by highlighting the very best design works, in order to push product manufacturers, designers and service providers worldwide to come up with superior designs that benefit society. To learn more about the A' Design Awards, visit: http://www.designaward.com