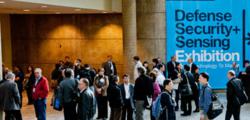 Bellingham, WA (PRWEB) September 12, 2012
SPIE Defense, Security, and Sensing will return to its new home in Baltimore, Maryland, next spring with more than 60 technical conferences focused on imaging, sensors, lasers and related topics. The event also offers professional development courses taught by leading experts, and an exhibition featuring developers and suppliers of applications such as robotics, infrared detectors, chemical sensors, high-speed imaging systems, and displays. Dates are 29 April through 3 May 2013 in the Baltimore Convention Center. Abstracts are being accepted through 22 October.
Defense, Security, and Sensing set new records in the number of technical presentations as well as exhibiting companies and exhibition visitors in its debut in Baltimore last April. Growth was due in part to the long-standing events new close proximity to the many government and research labs, decision makers, prime contractors, and aerospace companies in the greater Washington area.
In addition to a full range of well-established conferences in topics such as infrared systems, lidar and radar, laser technology, ISR, display technologies, unmanned systems and robotics, cyber protection, CBRNE, biometric technology for human identification, sensor data analysis, and energy harvesting and storage, the 2013 event will introduce three new conference topics: