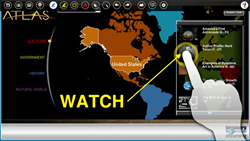 San Jose, CA (PRWEB) May 06, 2014
Splashtop Inc., the worldwide leader in cross-device computing and collaboration, announces additional device support for its 21st Century student engagement solution Splashtop Classroom. Splashtop Classroom allows teachers the ability to stream content and apps, whether from a Mac or PC, to every students Android device in addition to iPads, Windows, Macs and Chromebooks. Teachers can then pass control for students to share their ideas with the entire class without moving from their seats.
"The Splashtop Classroom Android app works beautifully and allows for greater flexibility of the system in a mixed platform environment. I think it is a fantastic way to enhance and develop a collaborative environment in a modern school and encourage the effective use of technology for 21st century learning", Troy Shoebridge, ICT/Network Manager, Rotorua Boys' High School, New Zealand.
Splashtop Classroom allows our teachers to increase student engagement with or without a projector – also allowing students to take control and present their ideas from their own device. Splashtop also has the added benefit of allowing teachers and administrators to access their files and information from anywhere without having to return to the office and be chained to their desk. Darrin Tingey, Technology Director, Fremont Re-2 School District, USA
With the growth in 1:1 and BYOD programs and initiatives, K-12 and Higher education schools, colleges and universities can now add significant value by greatly improving the engagement and collaboration in between teachers and students, said Mark Lee, CEO of Splashtop.
Supercharge your 1:1 / BYOD programs
Splashtop Classroom empowers teachers and instructors to effectively engage an entire room or campus by allowing teachers and students to: