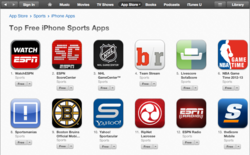 as Mobile App Ranks #8 for Top Sports Apps in US ITunes App Store (PRWEB) January 31, 2013
Sportsmani The Sportsmanias mobile app has risen to rank #8 for top sports apps in the US iTunes store. The app features tweets, articles, videos, photos, rumors, scores and standings on a users favorite teams.
"It's the easiest, fastest, most complete source of team news available and fans are raving about it. The app currently has a coveted 5 star rating amongst users.", says co-founder Vicente Fernandez. "The SportsManias sports app is fully personalized to the interests of the fan and enables users to get the best sports news for the teams they care about", continues Fernandez.
University of Chicago student/sports editor, Vicente Fernandez co-founded SportsManias less than 6 months ago. It is a sports media startup company in hyper growth and fueled by Fernandez's passion for sports.
The app has been designed in a way to bring breaking news through professional local newspaper beatwriters across the nation whom collectively cover every professional and collegiate team every day of the year. Tweets make the news ready to read and digest even before it hits the papers, yet Sportsmanias also delivers the final printed newspaper articles. Instagram photos posted by athletes also add an edginess to the team streams, and scores and standings complete the content.
It's no wonder this app is making its way to the top with such speed, taking the #9 rank among established, long time apps the likes of ESPN and Yahoo Sportstacular. Sports fans have been waiting for this rookie – they just didn't know it until now. The sports digital space has just found a new player, and it's an MVP. Sportsmanias is making its mark as a leading sports app.
About SportsManias

The sports news aggregator site for diehard fans, displaying 24/7 professional news as personalized feeds. / News. Tweets. Videos. Personalized.