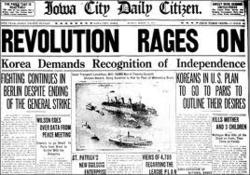 (PRWEB) February 21, 2013
Spotlight Koreas 2013 Student Essay Contest asks why the March 1st Movement should be remembered. Korean American students in grades 7-12 are invited to give their opinion as to the impact the movement had on Korean history and the spirit of the Korean people. What can students do to combat and prevent prejudice, discrimination, and violence in our world today? What lessons from the March 1st Movement are relevant to nations today?
In 1905, Korea was placed under the military rule of Japan. On March 1st, 1919, Koreans erupted into a wide-scale protest against Japanese occupation forces in what became known as the March 1st Movement. As the nations first peoples movement, the events of that day live on in the hearts and minds of millions of Koreans and are commemorated by a reading of the Independence Declaration at an annual ceremony. However, the significance of the movement is not clearly understood by the Korean people, and scholars and intellectuals in Korea differ in their assessment of its significance.
Cash prizes include $ 1000 for the first place essay, $ 500 for second place, and $ 250 for each of two third place prizes. Ten honorable mention essays will also be recognized. Winning essays will be featured in major Korean media and on spotlightkorea.org. Applications and information are available on spotlightkorea.org, and all entries must be submitted to info(at)spotlightkorea(dot)org by March 1, 2013. Information on the contest can be found on spotlightkorea.org. Resources for learning more about the Movement can be found on thinkkorea.org under students.
As a Korean-American still closely connected to my ancestral home, I want to share Korea with my adopted nation and reconnect Korean-Americans to their heritage, says Susanna Park, founder of The Korean American Project and Spotlight Korea. Despite the fact that Korea has an ancient culture older than the pyramids, and despite the fact that Korea today is a global leader in technologies used for the information, space, automotive, and robotics industries, the country is largely absent from educational curricula throughout the United States. Enhancing the presence of Korean history, art, literature, and culture in US primary and secondary schools has become my mission.
####
ABOUT SPOTLIGHT KOREA

Spotlight Korea is a non-profit organization, founded under the auspices of The Korean American Project, to enhance the presence of Korean history, culture, and art in primary and secondary schools throughout the United States. Spotlight Korea is the only site in the world to focus solely on Korean history, art, literature, and culture while providing interactive childrens activities, lesson plans for educators, and a singular multimedia experience. Other goals of Spotlight Korea include telling the stories of Korean Americans and instilling a stronger individual and community identity in Korean American children. As the site develops it will include lesson plans and teaching resources for educators, games and interactive features for students, and a variety of journalistic and multimedia content for the general public.