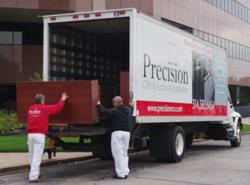 St. Louis, MO (PRWEB) November 22, 2012
Precision Office Furniture Installation, a leading St. Louis moving company that specializes in office relocation and corporate relocation, announced today that it has received InstallNETs Move Management certification.
The prestigious certification, which was presented by InstallNETs president Dale Ewing to Precision Office Furniture Installations vice president of sales and marketing Kim Brannan, validates the St. Louis office move companys customer-focused competence with respect to quality, consistency of service and pricing, service procurement, equipment management and administration.
Were delighted to have earned Move Management certification, commented Ms. Brannan. We believe in constantly upgrading our skills, so that we can offer more value and service to business owners, executive assistants, and facility managers who are contemplating office relocation in St. Louis, and want to connect with a proven, expert corporate relocation partner.
Ms. Brannan also pointed out that Move Management certification assures customers that Precision Office Furniture Installation has the expertise required to minimize disruptions during the office relocation process.
Were fully aware that the last things that our customers want to deal with are interruptions, hassles and headaches during their corporate relocation, stated Ms. Brannan. Thats why have systems and strategies in place to ensure disruptions are minimized, and that our customers keep costs and any downtime as low as possible.
Its an inspiring vision echoed by the companys executive vice president, John Kiel.
Our customers arent moving experts in fact, many of them havent moved in a decade or longer, commented Mr. Kiel. However, St. Louis office moving is what we do every day. We have thousands of successful corporate relocations to our credit, and leverage our skill and expertise to make the process smooth, efficient and cost effective for our customers.
About Precision Office Furniture Installation
Precision Office Furniture Installation provides union and non-union installation services for office furniture installations and reconfigurations, commercial furniture and equipment installation, hospitality and FF&E installations, educational furniture, library furniture and healthcare furniture installations. Precision has over 27 years of broad-based installation and project experience, for local and nationwide projects, connections for complex moves and corporate relocations, and one of the largest talent pool and most experienced management-level team in the industry. Together, these skills and service offerings provide a seamless, cost-effective, and highly coordinated response to all office furniture and equipment installation and relocation needs.
Press release distributed by St. Louis Internet Marketing firm Leap Clixx