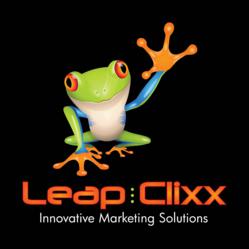 St. Louis, MO (PRWEB) September 05, 2012
Leap Clixx, an innovative marketing company that helps companies increase their revenue through online marketing, is pleased to announce the launch of their operations in St. Louis, MO. Leap Clixx saw the opportunity to help local businesses with their online marketing strategies and recently set up their operations in St. Louis. Now, local businesses will have a more effective way of reaching their customers by utilizing Leap Clixxs online advertising solutions.
Leap Clixxs launch into the St. Louis online marketing sector was driven by the need to modernize the way local businesses are marketing their products and services to customers. So many St. Louis businesses are still turning to the Yellow Pages for advertising, stated Michael Kiel, Executive Vice President and co-founder of Leap Clixx. This traditional form of advertising was fine 15 years ago, but now the majority of consumers are using digital media such as Google, Facebook, and Twitter. Leap Clixx develops, implements, and tracks online marketing campaigns for businesses in St. Louis with a focus on local search engine optimization (SEO), Google Adwords management, and social media marketing. They have also created custom all-inclusive fusion packages that bundle multiple products including a website, search engine optimization, St. Louis Local SEO, etc. into one simple platform. These fusion packages are specifically designed to help small to medium sized businesses compete in this now digital age.
There are millions of dollars spent on Yellow Pages advertising just here in St. Louis alone. Ask 10 people under the age of 55 where their phonebook is and see how many say that they threw it away! Businesses here in St. Louis that are not shifting a significant allocation of their advertising dollars to online marketing should be prepared to see their competition blow right past them, said Chans Weber, CEO and co-founder of Leap Clixx. Considering the recent decline in sales of print advertising it seems that its only a matter of time before every single business in St. Louis is going to need an online marketing strategy.
Billions of searches are being conducted on Google every month. When businesses have a website which is optimized for search engines, they are ensuring their products and services are visible during the crucial point of the buying cycle when the user is actively searching for what the business offers. There is no point in having a website that your customers cannot find through search engines. Its like buying a neon OPEN sign for the front window of your business, and never turning it on, stated Weber.
Whats unique about online marketing is that it is continually transforming the ways that you can add revenue to your business, said Kiel. From search engine optimization, to Google Adwords, to social media marketing, there is always a new strategy being developed to drive customers and revenue to businesses.
Several of the traditional print and media companies have developed online advertising products in an attempt to keep up with the changes in their industry. Weber claims this is a desperate attempt to recoup the revenue losses that these companies have been experiencing. There is a reason why youre seeing print media companies scrambling to throw together online advertising solutions which are not only overpriced, but also inferior to the services of legit online marketing firms, said Weber. The reason is simple; they are losing revenue faster than they can generate it.
St. Louis businesses interested in learning more about Leap Clixxs full range of online advertising solutions should visit http://leapclixx.com/. Businesses interested in learning more about Leap Clixxs small business fusion packages should visit http://leapclixx.com/online-marketing-services/local-seo-st-louis/.