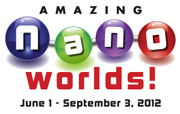 Chesterfield, MO (PRWEB) July 18, 2012
VMH International and the St. Louis Science Center have partnered for the hosting of Amazing Nano Worlds! an 8,000 square foot interactive exhibit that allows participants to immerse themselves into a world of objects that are too small to be seen with the naked eye. The family-focused exhibit allows children to physically interact with nano-sized matter which have been enlarged several million times their actual size, including molecules, atoms, and red and white blood cells. The exhibit, which is designed for families and children aged 5 to 13 years will run through September 3, 2012.
VMH is committed to bringing the technologies we use on a daily basis to aid in the interest of future generations, said VMH International President and CEO Vern Heyer. The Amazing Nano Worlds! exhibit is a great way to bring interactive demonstrations for how scientists are using nanotechnology in a way that will affect our lives.
VMH International CEO and President, Vern Heyer understands the potential that future nanotechnologies hold and that the responsibility for further technological advancement will ultimately fall on younger generations. Therefore, VMH International offers training for Siemens NX 8, aids the integration of NX CAM, CAD and CAE programs, and offers advanced PLM software consulting services to further aid the installation, configuration and customization of highly-specialized software platforms. Through these efforts, VMH seeks to enhance unification in the digital product development process since these products, along with the advances in nanotechnology, will be at the forefront of the complex design and simulation processes in the years to come.
"We are pleased to have VMH International / Siemens join us in supporting the Amazing Nano Worlds! exhibition, which helps kids and families connect with science, President and CEO, Bert Vescolani, of the St. Louis Science Center.
About VMH International

Headquartered in St. Louis, Missouri, VMH International is a value-added reseller of product lifecycle management (PLM) software to companies nationwide. VMH International has years of consultative experience acting as the bridge between original equipment manufacturers (OEMs) and their supply base by offering seamless software solutions with Siemens PLM and complimentary software systems. VMH also provides full implementation services, from installation to training, to assist its customers in reaching the full value of their PLM software purchase. For more information about VMH International, please visit http://www.vmhinternational.com or call 888-559-1918.
St. Louis Science Center

The Saint Louis Science Center is one of the top five science centers in the United States, serving 1.2 million visitors annually. Recently named one of the Top 10 Science Centers for Families by Parents magazine and one of Americas most visited museums by Forbes Traveler Magazine, the only museum in Missouri to be named to either list – the Saint Louis Science Center complex includes a four-story OMNIMAX