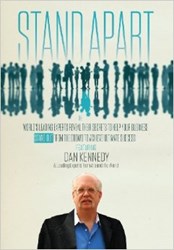 Los Angeles, CA (PRWEB) January 18, 2014
Jennifer Carlevatti Aderhold, Founder and CEO of BeABestseller.com, has joined best-selling author and marketing expert, Dan Kennedy, along with a select group of the worlds leading experts to co-write the book titled, "Stand Apart." In the book, the contributing authors reveal their secrets to help your business stand out from the crowd to achieve your ultimate success.
Nick Nanton, Esq., along with business partner, JW Dicks, Esq., recently signed a publishing deal with each of these authors to contribute their expertise to the book, which was released on January 16, 2014 under their CelebrityPress imprint.
Prior to founding BeABestseller.com, a website and inbox magazine dedicated to elevating the voices of entrepreneurial authors around the world, Jennifer worked in a variety of industries ranging from the Fortune 500 to small entrepreneurial ventures.
Most recently, as a digital marketing consultant, Jennifer created a water monitoring training video for C.I.Agent