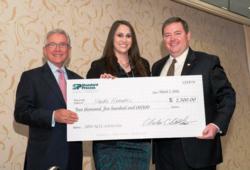 PALMYRA, Wis. (PRWEB) April 09, 2013
At the National Chiropractic Legislative Conference (NCLC) held last month, four chiropractic students received $ 2,500 scholarships from Standard Process Inc. This is the fifth year Standard Process has awarded the scholarships as part of the companys more than $ 10 million long-term educational outreach effort to involve current and future health care professionals in the study of whole food nutrition.
Three students from Northwestern Health Sciences University in Bloomington, Minn., received scholarships: Heidi Henson, eighth trimester; Steven Huybrecht, fifth trimester; and Brandon Mickelson, seventh trimester. The fourth recipient was Nicholas Maio, a fourth trimester student at New York Chiropractic College in Seneca Falls, N.Y. Winning essays can be viewed online at standardprocess.com/Our-Company/Supporting-Chiropractic.
The scholarships were presented by John Nab, D.C., director of professional development for Standard Process, during the Student American Chiropractors Association (SACA) welcome meeting. Through the years weve experienced more students wanting to learn about nutrition before they leave school, noted Nab. This way, they are already prepared to educate patients on making better nutritional choices right away.
In total, 45 applications from 12 different colleges were received. Active SACA members were eligible to apply for the scholarships, and applicants were asked to craft a 500-word essay on patient compliance and how to counsel a patient struggling to follow their nutritional protocol. The essays were reviewed by an independent panel of four reviewers. Applicants also needed to attend the 2013 NCLC.
About Standard Process Inc.
For more than 80 years, Standard Process, headquartered in Palmyra, Wis., has provided high-quality, nutritional whole food supplements through health care professionals. Standard Process offers more than 300 products through three product lines: Standard Process whole food supplements, Standard Process Veterinary Formulas and MediHerb herbal supplements. The products are available only through health care professionals.
Standard Process is involved in every step of production. The company grows crops on company-owned, organically certified farmland, utilizes state-of-the-art manufacturing processes, and employs the highest quality control standards. Standard Process strictly adheres to the Food and Drug Administrations good manufacturing practice requirements. Through these measures, Standard Process can ensure that its products are of the utmost quality and potency. Standard Process was named a Top 100 Workplace in Southeastern Wisconsin and is a member of the Inc. 5000 Honor Roll.
For additional information about Standard Process, visit standardprocess.com.