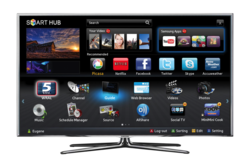 Raleigh, NC (PRWEB) June 20, 2013
According to eMarketer, 35 million US households will own an Internet-enabled TV in 2013, with that number projected to grow to 52 million by 2016. StepLeader takes the lead to ensure that their partners can distribute their content on any device that consumers use. In addition to content distribution, this new release supports both pre-roll and rich media advertising in Samsung. Through a national advertising partnership with Accelerated Media, smart TV owners can interact directly with rich media advertising, choosing from high-definition videos complete with multiple calls-to-action, such as finding a nearby location or contact form submission. Stepleader chose to partner with industry leader Accelerated Media due to their development expertise on all Smart TV platforms and 25+ years of advertising experience with major national brands. Said Nick Meyers, VP of Sales for Accelerated Media, Local broadcasters are a great link to the consumer, and advertisers realize this. Weve launched our ad platform into some of Stepleaders key stations, such as Raleighs WRAL, WNYW in New York, KTTV in Los Angeles and many others. Continued Meyers, Interaction rates and app downloads are better than what we expected, and our national advertisers are pleased with the early results.
We see the growing demand for smart TVs in the market coupled with shifting audience behavior as a tremendous opportunity to help our customers further engage their audience, states Brian Handly, CEO of StepLeader. The local TV audience is loyal, and wants to watch the news when its convenient to them. Reaching that audience with smart TV apps supports our mission to provide trusted content producers with the ability to earn revenue through engaging technology and effective, innovative advertising opportunities.
The smart TV apps are available today in both the Samsung and Yahoo! Connected TV app stores.
About StepLeader

Located in downtown Raleigh, StepLeader formed in 2004 when it developed the nations first news app for local media. Today, the company offers solutions and thought-leading expertise to help trusted content producers deliver their stories across mobile apps, mobile websites and smart TV apps. StepLeader provides advertisers with transparent access to a nationwide audience, delivering more than 400 million ads monthly. StepLeader has a proven track record of delivering quality return-on-investment for its partners including Scripps Television Station Group, Fox Television Stations, Morgan Murphy Media, News-Press & Gazette Company (NPG) and Capitol Broadcasting Company.

http://www.stepleaderdigital.com
Media Contacts:
StepLeader

Matthew Davis, Director of Product Marketing

mdavis(at)stepleaderdigital(dot)com

919.573.9712
About Accelerated Media, Inc.

Accelerated Media is a full-service developer of advanced TV advertising and related OTT and mobile device applications for global consumer products and broadcast programmers. Our advanced technology enables clients to interact with customers and viewers by bridging advertising and programming content through highly customizable, targeted campaigns that produce real-time metrics. Through our advanced technologies, we provide smarter media placement while reaching national audiences through major MSOs, OTT and mobile applications. Our team of experts also develops ad platforms and set-top box advertising technologies for major chip manufacturers and cable operators. Accelerated Media draws from more than 20 years of advanced advertising experience that has pioneered many of the first and most sophisticated national advanced ad campaigns in the U.S. Visit http://www.aimitv.com or call 720-733-9207.
Media Contact:
Accelerated Media

Nick Meyers, VP of Sales

nick.meyers(at)aimitv(dot)com

303-601-8393 (m)

720-733-9207 (o)