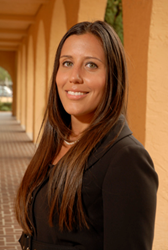 GULFPORT, FL (PRWEB) December 12, 2014
Stetson University College of Law Director for Student Life Tammy Briant has been selected as an Outstanding Professional in Graduate and Professional Student Services by the National Association of Student Affairs Administrators in Higher Education, NASPA.
Briant, JD '06, will be honored with her award on March 24 during the annual NASPA conference in New Orleans. The honor is presented by the Administrators in Graduate and Professional Student Services Knowledge Community in NASPA, the premier organization for student affairs professionals.
Briant is a member of the Student Support and Emergency Team, strategic planning and master planning committees at Stetson University. She recently coordinated Stetsons Its On Us campaign in November to raise awareness about guarding against sexual assault on college campuses. Briant is also an adjunct professor at Stetson, teaching an experiential learning course on constitutional law and the civil rights movement. She speaks on transformative learning, leadership, and the connection of civil rights movement history with social justice issues.
I am deeply honored to receive this award, which to me, recognizes the diligent work of my entire team to create an innovative, dynamic, and supportive living/learning community focused on developing our students to be future leaders of the legal profession, said Briant.
Active in the Tampa Bay area community, Briant serves on the board of the Hillsborough County Bar Association Young Lawyers Division and volunteers with Bay Area Legal Services Family Forms Clinic, Wills for Heroes, and Crossroads for Kids, where she has served as an attorney ad litem for a teenager in foster care.
###

About Stetson University College of Law

Stetson University College of Law, Florida's first law school, has prepared lawyers and leaders since 1900. Today, Stetson leads the nation in blending legal doctrine with practical training, evidenced by its top-ranked programs in advocacy and legal writing. Through our academically rigorous curriculum and commitment to social responsibility, Stetson lawyers are ethical advocates ready to succeed in the legal profession.