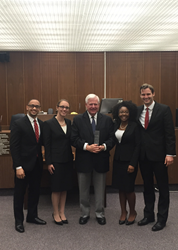 Gulfport, FL (PRWEB) March 26, 2015
Stetson University College of Laws trial team won the southeast regional of the American Association for Justice Student Trial Advocacy Competition in Ft. Lauderdale, Florida.
Students Brooke Batton Charlan, Stanton Fears, Phylicia Pearson and Kyle Ross won the AAJ regional on March 22 and earned the right to compete in the national competition April 16-19, in Pittsburgh, Pennsylvania.
The AAJ Student Trial Advocacy Competition is one of the largest mock trial competitions in the country. This year, 224 law school teams competed in the qualifying rounds in 14 regions. Stetsons trial team tried a products liability case.
Stetsons team stood out in the competition, said Associate Professor of Legal Skills and Trial Advocacy Coordinator Michele Joiner. Through its preparation, talent and professionalism, our team illustrated why Stetson is the best advocacy program in the country.
A second team of Stetson students, Franklin Farago, Chad Florin, Daniel Miles and Allison Stevenson, also competed, and Stetson Law graduate Shaun Cummings 14 and Professor Joiner coached the teams.
For more information about Stetsons award-winning advocacy program, visit http://www.stetson.edu/advocacy.
About Stetson University College of Law

Stetson University College of Law, Florida's first law school, has prepared lawyers and leaders since 1900. Today, Stetson leads the nation in blending legal doctrine with practical training, evidenced by its top-ranked programs in advocacy and legal writing. Through our academically rigorous curriculum and commitment to social responsibility, Stetson lawyers are ethical advocates ready to succeed in the legal profession.