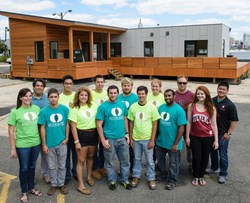 Hoboken, N.J. (PRWEB) October 15, 2013
As corporations, governments and innovators across the world seek affordable clean energy solutions to respond to the threat of climate change, Stevens Institute of Technology has created an award-winning home which demonstrates the money-saving opportunities and environmental benefits presented by clean energy products and design solutions.
On Oct. 13, 2013, Stevens zero-net energy smart house, Ecohabit, won fourth place in the U.S. Department of Energy Solar Decathlon, a prestigious biannual competition in which a highly select group of university teams from around the globe compete to design, build and operate the most energy-efficient solar home within budget and building limits. The fourth-place finish is a remarkable improvement upon Stevens 13th place finish in its first Solar Decathlon in 2011.
I am incredibly proud of our team, said Stevens President Nariman Farvardin. The competition was tremendously rigorous, and our students showed the world what we at Stevens know so well that collaboration can yield outstanding innovation that makes positive societal impact.
Designing and constructing Ecohabit was an enormous, two-year collaborative effort that involved more than five dozen Stevens students with expertise in engineering, design, architecture and computer science.
The single-family home meets todays highest energy standards by embedding numerous innovative systems and technologies, including solar shingles, phase-change materials, a rainwater harvesting system with green wall and green roof, a condensate misting system, a desiccant system and a recirculating heat pump.
Most unique is its ingenious central control system, which takes data from sensors located throughout the home to preserve energy and teach the homes occupants to live more sustainably.
Ecohabit is designed to change the relationship between a home and its user, guiding homeowners toward a practical, more sustainable lifestyle, said Ashley Montufar 14, a dual mechanical engineering and engineering management major. We included many cutting-edge technologies to lower energy usage while maintaining the modern conveniences of 21st century living.
Ecohabit was completed this summer at a building site on the Hoboken waterfront on the Stevens campus and then shipped across the country and rebuilt on the site of the Solar Decathlon, which took place over a ten day period at the XPO, a worlds fair of clean, renewable and efficient energy in Irvine, California.
There, competing against teams from the Czech Republic, Canada, Austria and dozens of American universities, Ecohabit accumulated 939 points out of a possible 1,000good enough for fourth place overall and top five finishes in the individually judged categories of architecture (second), market appeal (tied for fourth), hot water (tied for first) and energy balance (tied for first). They outscored their own 2011 Solar Decathlon finish by more than 100 points.
Stevens finish of second place was in the architecture contest, which assessed each houses architectural elements, environmental compatibility, occupant comfort, design inspiration and construction specifications. Ecohabits unique layout makes it an optimal space to sustainable living. The unique L-shape creates a spacious feel, a modular furniture system and a flex room allow occupants to reconfigure the rooms as their needs change, exterior glass walls fold open to both provide natural ventilation and an expanded living space, and two large covered decks also extend the interior space.
Stevens finished fourth in the Market Appeal Contest, which evaluates the livability, marketability and constructability of each house and its appeal within the housing market of the target client chosen by each team. Ecohabit, with a flexible and accessible design, is tailored for a young, middle-class couple with one child living in the Southern California market.
Stevens earned full points and tied for first in both the energy balance and hot water categories. The energy balance competition measured whether a house produces at least as much energy as it needs, thus achieving a net energy consumption of zero. The hot water competition measured the ability of the houses hot water heating system to produce the amount needed for daily washing and bathing. Ecohabits innovative, on-demand hot water system heats water only when needed, and the misting system uses condensate to increase efficiency of the HVAC unit.
Ecohabit is an incredible example of the singular power of a Stevens education.
A key aspect of Stevens missionto drive purposeful innovation that makes a lasting difference on humanityis directly realized through the project, as preserving the earths resources through sustainable technologies is one of the worlds most pressing challenges today.
This project was not just about designing a functional and beautiful house, but rather addressing a real societal needthe need for sustainability, said Dr. Lisa Dolling, dean of the College of Arts and Letters at Stevens.
In addition, interdisciplinary research, applied science, project-based learning and cooperative education are all integral components of Stevens rigorous academic curriculum, designed to help students see science and research come to life to solve real-world problems like energy conservation.
Taking undergraduate classes at Stevens really allowed me to turn theory into practice, applying the work I did in the classroom to what I did on the site, said Ecohabit team member William Hazen 13, a mechanical engineering major.
These experiences are some of one of the major reasons Stevens graduates are so highly-recruited for jobs in engineering, science, business, technology and other in-demand fields, and that the Stevens return on investment for students is ranked ninth among the nations colleges.
With the Solar Decathlon complete, Stevens will now donate Ecohabit to California State University San Marcos (CSUSM) for use as a veterans center, serving nearly 900 students. Similarly, in 2011, Stevens Empowerhousethe first place award winner in the affordability and hot water categorieswas later donated to Habitat for Humanity, which turned it into the home of a working mother of three in an inner-city neighborhood in Washington, D.C.
We have so much to be proud of, said Dr. Michael Bruno, dean of the Schaefer School of Engineering and Science at Stevens. "Our team's top-five finish is remarkable considering the caliber of this international competition. Our students worked together across all departments and schools to build something that will stand forever, providing a resource for returning veterans. Throughout, they represented Stevens with professionalism and a relentless commitment to excellence. We look forward to working with Cal State San Marcos in preparing the house for its future use. And we WILL be back again in the 2015 Solar Decathlon competition!
Walk through Ecohabit yourself with this video.
About Stevens Institute of Technology
Stevens Institute of Technology, The Innovation University