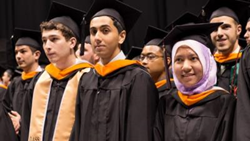 Hoboken, NJ (PRWEB) March 12, 2015
A Stevens education continues to offer a very high return on investment, ranking 3rd-best among 1,223 U.S. institutions in net ROI in new evaluations provided by salary consultancy PayScale in its just-released 2015 report.
During the next 20 years, said PayScale, Class of 2014 Stevens graduates can expect an $ 841,000 return, or 8.1% annually, on the cost of their education. The rankings are calculated by comparing total university costs against 20 previous years of salaries from graduates of those universities, then projecting forward.
Only Harvey Mudd College and California Institute of Technology ranked higher than Stevens in expected net ROI for recent graduates. Colorado School of Mines, Babson College, Stanford University and MIT placed next after Stevens. Other institutions below Stevens on the list include Harvard, Yale, Princeton and all the remaining Ivy League colleges. Stevens ranked number one in ROI in the entire Northeast.
"Once again, the value of a Stevens education has been validated by the data," said Stevens President Nariman Farvardin. "Stevens alumni continue to excel in diverse careers in the New York metropolitan area and across the globe. This #3 ranking in Payscale.com's ROI list, combined with the Class of 2014's 95 percent job-success statistics, confirms that Stevens graduates rise farther and faster than many of their counterparts post-graduation and well into their careers."
Stevens has experienced significant growth in admissions to a number of its graduate and undergraduate programs recently, both in high-compensation fields such as engineering, IT and management and in the humanities, said Edward Stukane, vice president of communications and marketing for the university.
"More than 1,000 companies recruited Stevens students last year, and approximately 300 companies visited the Stevens campus last year specifically to meet with our students. That shows real demand, across the board not only in engineering, but also for our business school and our College of Arts and Letters," Stukane added, "The ROI story at Stevens is just one reason why our undergraduate applications are up 27 percent this year and more than 60 percent over the last four years."
The ranking joins other recent Stevens recognition, including ranking 3rd in the nation for "Career Placement" by The Princeton Review; 7th-best engineering college in the nation by USA Today; a top-5 "Safest College" according to the university research service Cappex; 12th-highest mid-career salaries of graduates by PayScale; #58 in Money magazine's "Best Colleges for Your Money"; and a rise to #76 in U.S. News & World Report's Best National University rankings.
To learn more about the Stevens ROI story, visit stevens.edu/ROI.
About Stevens Institute of Technology

Stevens Institute of Technology, The Innovation University