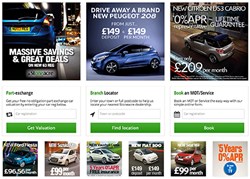 (PRWEB UK) 2 October 2013
The bespoke http://www.stoneacre.co.uk was planned, designed and built by the groups in-house team of developers, social media executives and online visibility specialists. The fully responsive new website adapts to desktop, tablet or mobile devices in order to provide users with the best possible experience regardless of how they access the site.
Taking inspiration from sites such as Google and Pinterest, the new site boasts a clean cut flat design with a unique Pinterest style used car page. Infinite scroll allows the user to quickly and easily browse the group stock without having to navigate between a series of pages, whilst detailed vehicle specification and technical information is supplied by CAP and easily accessed via a light box on the used car search page.
The new car section boasts vehicle galleries and independent car reviews from Car and Driving, whilst a site wide showroom and comparison facility enable the user to easily compare multiple vehicles and/or offers side by side at the click of a button, be it new, used or nearly new.
Away from the consumer-focused elements, the site has a completely redeveloped blog section. Not only does this add a dash of colour, but also interesting articles about the motoring industry and tips to help those through their automotive journey. The blog also implements infinite scrolling for ease of use for the user, and overall, is one of the sites most attractive areas.
Stoneacres Managing Director, Shaun Foweather, said: Our decision to build a new website from scratch was based upon a realisation of the sheer potential the internet has to offer. We wanted to create a website which offered a refreshing change from the uninspiring templates which often have little focus on the user experience and accessibility, but are widely adopted across the automotive retail sector.
Talking of their decision to go responsive, Shaun highlights the fact that around 50% of Stoneacres web traffic now comes from mobile and tablet devices – a 20% increase on the previous year.
Shaun went on to say: We've seen online enquiries rocket by nearly 300% over the past six months and we're confident that our focus on the customer journey throughout the build of the website, along with our decision to go responsive, will ensure the site provides us with a strong platform for continued growth.