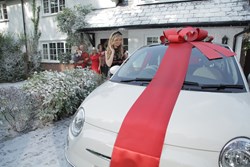 Doncaster, United Kingdom (PRWEB UK) 26 November 2013
Suitably titled 'The Stoneacre Christmas Sale', the campaign will be shown around popular ITV1 programs such as The Paul O'Grady Show and Emmerdale. Meanwhile its national debut will take place at 11:10am on Wednesday November 27, during the popular breakfast show, This Morning. For a sneak preview, click here.
The campaign will be used to promote the company's seasonal sale. Incorporating a '5 years 0% finance' message along with 'massive savings' and 'life time guarantee' whilst further delving into the motoring exploits of the 'Stoneacre Family'. The advertisement continues on from its summer predecessor 'The Holiday' with the 'Motoring For Life' concept remaining evident throughout.
The three day location based shoot took place during the squelching heat of summer although a spot of fake snow effortlessly transformed the surroundings into a captivating winter landscape. Meanwhile the storyline focuses on the 'Stoneacre Family' as they embrace the festive celebrations with a traditional Turkey roast.
Giving airtime to three popular cars including the Ford S-Max and Kia Sorento, the festivities culminate in the gifting of a small gift wrapped box containing a set of 'Stoneacre keys' and ends in the family's discovery of a snow covered ribbon rapped Fiat 500.
'Stoneacre Christmas Sale' is the third and latest instalment in a series of campaigns to be based on the 'Motoring For Life' concept and further supports the company's rebrand which took place earlier in the year. In support of the campaign, Stoneacre will the use the Twitter hashtag #MotoringForLife. A series of 'Christmas inspired' changes have also be made to social profiles and the Stoneacre website.
Stoneacre's Managing Director, Shaun Foweather commented, Having begun with the airing of our first campaign back in February which proved to be a huge success. The Christmas campaign is the latest instalment in what we hope will be a long running series following the motoring exploits of the 'Stoneacre Family'.
Shaun goes on to say, TV is now an integral part of our marketing strategy and we believe this combined with our comprehensive digital approach will ensure we continue to make inroads into our competitors market share in 2014.