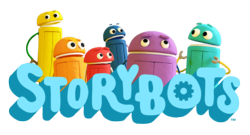 Venice, CA (PRWEB) March 20, 2013
StoryBots, created by JibJab.com founders Evan and Gregg Spiridellis, debuted three new apps today to lend parents a hand with safe, high quality programming for their kids and tools that make parenting more fun.
We created StoryBots not only to entertain and educate our own kids, but also to inject a big dose of fun into our parenting routines, said the brothers. What were building is as much for parents as it is for kids.
The StoryBots are brightly-colored, infinitely curious little creatures who live in the world beneath our screens. They are standing by, anytime, anywhere, in our smart phones, tablets and computers, with apps that entertain kids (the Happy Kids product line) and help busy parents (the Happy Parents line).
Todays three new app releases cross both product lines:
KIDQUOTER is an app for iPhone