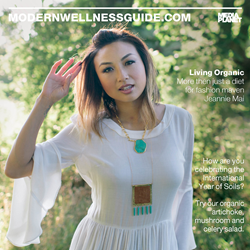 New York, NY (PRWEB) March 04, 2015
Jeannie Mai, TV personality, fashion maven, and co-host of the hit talk show The Real graces the cover of the print publication. Mai embraces the overall theme of the campaign by encouraging readers to choose organic when shopping for clothes and personal care products. In an exclusive interview, Olympic gold medalist Nastia Liukin opens up about her commitment to an organic diet. She mentions, Having an organic lifestyle has always given me more energy, not only in gymnastics, but also now as Im a full time student at New York University.
The print component of Organic Living is distributed within The San Francisco Chronicle, with a circulation of approximately 175,000 and an estimated readership of 500,000. The digital component is distributed nationally through a vast social media strategy and across a network of top news sites and partner outlets. To explore the digital version of the campaign, click here.
The Organic Trade Association, Natures Path, Driscolls, Nastia Liukin, Jeannie Mai, Organic Valley, Barbaras Bakery, and many more.
About Mediaplanet

Mediaplanet is the leading independent publisher of content-marketing campaigns covering a variety of topics and industries. We turn consumer interest into action by providing readers with motivational editorial, pairing it with relevant advertisers, and distributing it within top newspapers and online platforms around the world.
Press Contact

Jordan Hernandez

Jordan.hernandez(at)mediaplanet.com

646-755-7956