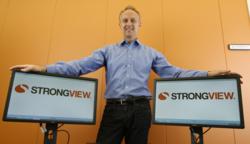 Redwood City, Calif. (PRWEB) July 10, 2013
Mirroring the rapid changes in all aspects of consumer marketing, StrongMail today unveiled its rebrand as StrongView, a name designed to convey the companys ability to provide marketers: A stronger view of their customers. A stronger view of how to engage them. A stronger view of success.
An established leader in enterprise digital marketing products and services to major consumer brands such as Netflix, Frontier Airlines, Overstock.com and others, the company has moved aggressively beyond its core enterprise email marketing roots, integrating mobile, social, web and display into its industry-leading digital marketing platform.
Marketing is in the midst of a massive transformation, and weve been at the forefront of driving it to the next level for large enterprises, said Bill Wagner, StrongViews CEO. Weve extended our platform to address the marketing channels most popular with consumers today, and architected our solutions to embrace emerging new technologies, devices and touch points as they evolve. Weve built a world-class services and strategy team to assist customers in effectively adopting new approaches to improve the impact and ROI of their marketing dollars. In February, we announced a cutting-edge cloud-based data platform built on Amazons Redshift data warehouse-as-a-service, allowing marketers to harness unlimited amounts of data for unparalleled targeting and personalization. Our rebrand encapsulates the transformation taking place within our market and our company. StrongView is well positioned for the new era of digital marketing today and well into the next decade.
Consumer behavior has changed and marketing must change with it. The rapid consumer adoption of new technologies, along with marketers access to the power of big data and predictive analytics, means that business-to-consumer marketers must rethink the fundamentals of how they attract, acquire and retain customers. Marketers must recognize changing consumer behavior and formulate strategies that are holistic and integrated, giving them the ability to reach consumers in real time, when and where the consumer chooses, via their preferred channel and device.
A recent McKinsey & Company article titled "The Coming Era of On-Demand Marketing" noted that today many companies have successfully defined and addressed customer interactions across a few channels but what they need to be designing, however, is the entire story of how individuals encounter a brand and the steps they take to evaluate, purchase and relate to it across the decision journey.
Understanding customer preference is both more complex and more promising than ever before," said David Atlas, SVP of Marketing at StrongView. "The proliferation of new consumer channels, the ability to combine offline data, and the omnipresence of mobile and real-time all make the management of cross-channel marketing more challenging, but also potentially more profitable. StrongView's solutions provide customers the means to succeed in a time when intelligence is paramount and correct action imperative. This is the StrongView brand: a stronger view of the customer, and a stronger view of how to engage them successfully."
Along with the rebranding to StrongView, the company in the past few months has further enhanced and broadened its email marketing and cross-channel marketing solutions to include: