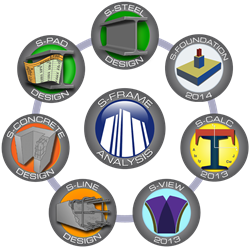 Vancouer, BC (PRWEB) February 25, 2014
S-FRAME Software, Structural Engineering Software Solutions Provider, will be conducting a technical conference on March 25, 2014, the eve of the AISC NASCC conference. The conference is being held at 330 Bay St, Suite 610 in Toronto, ON from 10:00am – 4:00pm ET. Attendance is free, but registration is required. To sign up, click here.
Dr. Marinos Stylianou, CEO of S-FRAME Software, will present a brief overview of Structural Office R11 and its future direction. The latest features in Structural Office R11 will be discussed. Attendees will be able to participate in Q-A sessions and attend an Open House Workshop to test-drive the latest products from S-FRAME. Application Engineers will be on hand to have attendee's specific analysis and design questions answered. Registered attendees will have lunch provided at no charge and will also have a chance to win a Google Nexus 7 Tablet.
S-FRAME encourages Structural Engineers, Design Managers, Technical Directors, and BIM/CAD Technicians to attend. The conference will be suitable for engineers pursuing professional qualifications to earn Professional Development Credits.
The agenda plans to address new Structural BIM and DXF Integration Links, Foundation Analysis and Design using S-FOUNDATION 2014, Model Validation and Sharing using S-VIEW, and new Advanced Analysis Features within S-FRAME Analysis.
In regards to the technical conference announcement, Stylianou said, "In 2014, S-FRAME Software will be in several large cities where either conferences or concentrations of customers/prospects are located. This provides us the opportunity to spend an extra day or two to hold a face to face event with people whom we typically communicate via phone or email. We are extremely excited to communicate all the work that S-FRAME Software has been doing and provide insights into our future plans."
About S-FRAME Software, Inc.
Since 1981, after introducing its first commercially available 2D analysis program, S-FRAME Software has led the industry in the development of easy-to-use, reliable, and innovative analysis and design software products trusted by structural and civil engineers worldwide working in a multitude of industries. S-FRAMEs Structural Office is a structural model management environment that enables users to design robust structures regardless of geometric complexity, material types, loading conditions, nonlinear effects, and design-code requirements. S-FRAMEs software products include: S-FRAME, S-STEEL, S-PAD, S-CALC, S-CONCRETE, S-LINE, S-VIEW, and S-FOUNDATION.