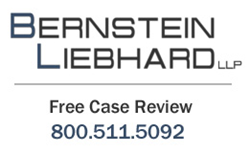 New York, NY (PRWEB) March 03, 2014
Product liability claims filed in the wake of the Stryker hip recall (http://www.strykerhiprecallclaims.com/ ) for Rejuvenate and ABG II Modular-Neck Hip Stems continue to move forward in New Jerseys Bergen County Superior Court, Bernstein Liebhard LLP reports. According to a Case Management Order issued on February 27, 2014, nine of the ten cases chosen for early mediation have completed the mediation process, with eight of the nine matters having resolved through mediation.
According to the Order, the parties have also finalized and submitted to the Court the lists of eligible cases for Phase II of Early Mediation. Both the Court and Plaintiffs have chosen specific cases from those lists for mediation. Defendants have been directed to make their selection by March 14, 2014.
Our Firm is representing a number of clients who have filed Stryker hip lawsuits in this litigation, and we continue to hear from individuals who were affected by the Rejuvenate and ABG II recall. We are pleased with the progress of this proceeding, says Bernstein Liebhard LLP, a nationwide law firm representing the victims of defective drugs and medical devices. The Firm continues to offer free legal evaluations to individuals who have suffered serious complications, allegedly related to the Stryker recall for Rejuvenate and ABG II hip stems.
Stryker Hip Recall

The Stryker hip recall for Rejuvenate and ABG II hip stems was announced in July 2012, after Stryker determined that the metal hip components were prone to fretting and corrosion at the modular-neck junction. Patients who experience this phenomenon may suffer pain, swelling and adverse local tissue reactions that necessitate removal of the device. Stryker has recommended that all Rejuvenate and ABG II recipients undergo blood and imaging tests to ensure their device is functioning properly, even if they have not experienced any symptoms related to a failing hip implant.*
Court documents indicate that nearly 800 Stryker hip lawsuits have been filed in New Jersey Superior Court on behalf of Rejuvenate and ABG II hip stem recipients. All of the lawsuits similarly allege that the recalled hip components were defectively designed and manufactured, and caused recipients to suffer osteolysis, tissue necrosis, adverse local tissue reactions, and other debilitating complications. The lawsuits further allege that many patients fitted with the recalled hip stems continue to suffer from pain and disability, even after undergoing surgery to remove and replace their failing devices.
In addition to the claims pending in New Jersey, court records show that more than 570 federally-filed Stryker hip lawsuits involving similar allegations have been filed in a multidistrict litigation now underway in the U.S. District Court, District of Minnesota. (In re: Stryker Rejuvenate and ABG II Hip Implant Products Liability Litigation, MDL No. 2441)
Alleged victims of complications related to the Stryker hip recall may be entitled to compensation for their injuries. Find out more about Stryker hip lawsuits at Bernstein Liebhard LLPs website, or call 800-511-5092 to arrange for a free, no-obligation case review.
*literature.ortho.stryker.com/files/REJUV_COM_23.pdf
About Bernstein Liebhard LLP

Bernstein Liebhard LLP is a New York-based law firm exclusively representing injured persons in complex individual and class action lawsuits nationwide since 1993, including those who have been harmed by dangerous drugs, defective medical devices and consumer products. The firm has been named by The National Law Journal to the Plaintiffs Hot List, recognizing the top plaintiffs firms in the country, for the past 12 consecutive years.
Bernstein Liebhard LLP

10 East 40th Street

New York, New York 10016

800-511-5092
ATTORNEY ADVERTISING.