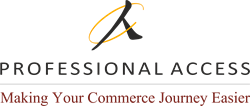 New York, NY (PRWEB) June 25, 2014
Professional Access Ltd., a leading provider of business consulting and implementation services for omni-channel commerce and a trusted Oracle partner, has closed another successful year. The company has witnessed substantial growth delivering services that accelerate the evolving commerce journey, and support increased demand for omni-channel commerce capabilities and drive differentiation through the online customer experience.
The companys key strengths were highlighted in the fourth quarter as it continued to focus on delivering global omni-channel vision and customer experience innovation that enable enterprises to increase revenue and achieve a greater return on their investment in commerce technologies. Enterprises in retail, including fashion, general merchandise, and specialty; consumer services, including communications, loyalty/rewards and warehouse clubs; and business-to-business, including, manufacturing and distribution – all leveraged Professional Access global success model to reach new heights last year.
This is an exciting time to partner with retail leaders as we work together to drive innovation and eCommerce excellence, said Babu Venkatesh, CEO and President at Professional Access. The Oracle Commerce platform continues to be a key driver of this commerce evolution. As a result, our focus on Oracle technologies is beginning to pay off well.
Notable client successes in fiscal year 2013 included: