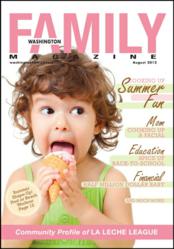 Washington, DC (PRWEB) April 04, 2013
Washington Family Magazine was awarded the "Best of the Best" designation for excellence by Follow Media Consulting, Inc. in the category of Summer Camps in DC. This award signifies the continued commitment and dedication of the areas best in publication of parenting tips and articles on family activity and fun.
Washington Family Magazine is the all in one family resource magazine. Information on their publications includes resources for kids, parents, activities, classes, camp, school, fun things to do, birthday parties, dentist, tutors, special needs in DC,VA and MD.
More and more parents look to Family Magazine for resources surrounding all aspects of family life. Now, all in one place, parents can explore and discover information on both Summer overnight and day camps. Family Magazine is dedicated to guiding parents and kids to opportunities where they can find mentoring, enrichmentand of course, fun.
Family Magazine is the largest parenting publication in the DC Metro region with over 20 years of publishing, has a distribution of 80,000 magazines each month and can be found in over 2,800 locations throughout the region.
Find camps for just about any interest, including: education, sports, computers, dance and more. Family Magazine will bring all the details needed to find the perfect summer camp experience for any child. You can visit their website at http://www.washingtonfamily.com/ to get more information on recent family and kid's activities in the area. You may also call them at phone number (703) 318-1385, ext. 7.
About Follow Media Consulting, Inc.
Named one of the best SEO companies by Jonas Marketing, Follow Media Consulting, Inc. is a rapidly growing worldwide firm of SEO, Social Media, and Mobile Marketing Professionals. Follow Media Consulting, Inc. headquarters is located in Richmond, VA. However, our professional team is networked across the world, with regional offices across the United States, in the United Kingdom, Canada, Australia, France, South Africa, the Philippines, and India.