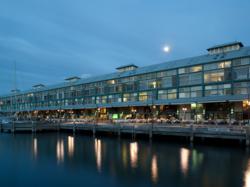 Sydney, Australia (PRWEB) January 18, 2013
BLUE Sydney, a Taj Hotel is already celebrating summer down under, but it's not too late to get in on the fun at this five-star urban resort at the happening Wharf at Woolloomooloo. WATERBAR, named 2012 Bar of the Year in the Tourism Accommodation Australian Awards for is the epicenter of entertainment at BLUE attracting Sydney's most exclusive parties and events.
The action has not stopped at WATERBAR; from online fashion brand ICONICs first birthday bash, to CLEO Magazines annual swim party and the Miss Australia Fashion Show, which had loads of fabulous people in attendance, said Sanjay Umashankar, general manager of BLUE. Mr Ratan Tata, great-grandson of the founder of the Tata group (which owns Taj Hotels, Resorts and Palaces) was recently in Sydney and was presented with an honorary degree of Doctor of Business honoris causa by the University of New South Wales. This was awarded in recognition of his eminent service to the global community and was presented on the eve of his retirement.
BLUE is also celebrating the completed refurbishment of its rooms and common areas. Here are more details on the summertime festivities and new features at BLUE.


In time for Valentine's, it's the Max Brenner Romance @ Blue – Enjoy a luxury marina view room with views across the Woolloomooloo Marina of the Sydney skyline. Once checked in, enjoy a Max Brenner romance dinner box set including fire water chocolate fondue tower with candle and two fondue forks, milk chocolate caibos, Maxs chocolate chunks 200g, life is beautiful favorites caramelized pecans rolled in rich praline and fine cocoa powder, two of Max's famous Belgian waffles for dipping and a bottle of sparkling Chandon. The following morning enjoy full buffet breakfast for two at Blue Cafe.
Summer Cocktails At WATERBAR – WATERBAR is the top bar in Sydney for 2012 and was named one of the top 10 bars in the world by Conde Nast Traveler. It's perfect for summer with marina views and an atrium setting. Mixologists at WATERBAR have created some refreshing summer libations like the Exotica, fresh and light with a touch of sweetness and served in a fabulous martini glass (Beefeater London dry gin, fresh lychees, lychee liqueur, ginger liqueur, fresh lime and kaffir lime leaves, shaken and served straight up.) Also try the mellow yellow (fresh strawberries, lemoncello, frais des bois, lemon juice, sugar cane syrup & egg white shaken and served short over ice) and more.
Blue Bikes – BLUE Sydney now has an exciting new way to enjoy Sydneys beautiful harbor; its BLUE bikes! They're actually gold (Tajs flagship color) and are exclusively for guests to ride around the Warf at Woolloomooloo and its stunning surroundings. Two vintage bikes can be booked, complete with picnic lunch. BLUE is the only hotel in Sydney to offer bikes for dreamy summer ride-abouts.
Blue Refurb – Guests staying at BLUE Sydney will notice the iconic property has had a subtle makeover, designed to refresh its cool urban d