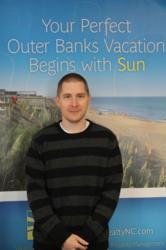 Kill Devil Hills, NC (PRWEB) February 05, 2013
Stuart has a strong, diversified marketing and operational background in the tourism industry. He comes to Sun Realty, the largest Outer Banks Vacation Rentals company, from Currituck Travel and Tourism, a highly respected destination marketing organization that promotes travel and tourism on the Currituck Outer Banks. Stuarts accomplished much as their Web Development and Internet Marketing Specialist. Currituck Travel and Tourism has been recognized by the Destination Marketing Association of NC for having one of the top websites in the state 3 years in a row (2009-2011). Stuart began his marketing career with Village Realty, working on the website and photography. He brings a wealth of experience, insight, knowledge, expertise and new ideas with him. He respects Sun Realty and is proud and happy to be joining the team. He looks forward to working with marketing, supporting the companys past successes and building on them.
Sun Realty is a real estate sales and vacation rental company on the Outer Banks of North Carolina. Established in 1980 by founder and CEO Paul Breaux, Sun is the only company to cover the entire Outer Banks with 7 offices: Harbinger, Corolla, Duck, Kitty Hawk, Kill Devil Hills, Salvo and Avon. Sun Realty represents the largest selection of vacation rentals on the Outer Banks and has a sales team in every office. Visit http://www.SunRealtyOBX.com and http://www.SunRealtyNC.com for more information.