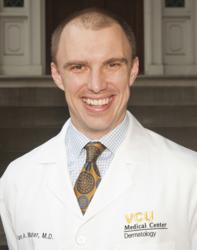 Rolling Meadows, Ill. (PRWEB) April 09, 2013
Virginia-based dermatologic surgeon and former collegiate soccer player Ian Maher, M.D., F.A.A.D., couldnt get past the irony that the sport he loves could pose a health risk to young people by contributing to a rise in skin cancer.
That conundrum led Maher a member of the American Society for Dermatologic Surgery (ASDS) to develop Sun Safe Soccer, a skin cancer prevention initiative that encourages coaches to create a culture of sun protection in soccer.
With 18 million participants nationwide (14 million under the age of 18), soccer is one of the most-played sports in the United States. The growth of soccer has been so dramatic that the United States now has more players than in any other country in the world.
Maher himself played competitive soccer throughout his youth and at Charleston Catholic High School in Charleston, W.V., and Oberlin College in Oberlin, Ohio. Despite soccers obvious health benefits, Maher an assistant professor of dermatology at Virginia Commonwealth University also saw the statistics that 1 in 5 Americans suffer from skin cancer in their lifetimes, and that most sun damage is done before the age of 18.
We have to balance the fact that soccer is a great physical activity for our children with the fact that sun exposure early in life is the leading cause of skin cancer in adulthood, Maher said. Ultimately, we want to make soccer the most sun-safe outdoor sport in America. By putting player safety and public health at the forefront of the sport, we can educate people about the risk of sun exposure and skin cancer, hopefully reducing the number of melanoma and other skin cancers in the soccer community.
Sun Safe Soccer grew out of Mahers experience with the Future Leaders Network, an ASDS leadership development initiative for young and mid-career professionals to prepare them to become the next generation of leaders in dermatologic surgery. Starting as a pilot program in Virginia in 2010, Sun Safe Soccer has spread through Wisconsin, Washington and Arizona and sprouted up in California, Missouri and West Virginia as well.
At its core, Sun Safe Soccer seeks to empower soccer coaches to encourage their players to engage in safe sun habits.
Coaches are natural leaders and habit builders, and kids often are more likely to listen to their coach than their parents or even their doctors, Maher said. Sun Safe Soccer seeks to capitalize on that. The first step is to teach soccer coaches about skin cancer prevention. The next step is for the coaches to share that knowledge with their players.
Coaches can teach sun safety using two simple steps, Maher said. Before the game, players should apply sunscreen first and then put on shinguards (because sunscreen works best when its applied 15 minutes before exercising). After the game, have players cool down in a shady spot and cover up by wearing a hat or a long-sleeved shirt.
We have the opportunity with Sun Safe Soccer to tell parents that their children will be better protected from sun damage and skin cancer while playing soccer, Maher said. I think every parent can appreciate that message.
Part of Sun Safe Soccers success is how easy it is to get involved, Maher said. Coaches can sign up their teams online at asds.net/Sun-Safe-Soccer, where they also can download free educational handouts for parents.
Maher was invited to speak about Sun Safe Soccer at the 2013 National Soccer Coaches Association of America convention in January, where he shared podium time with John OBrien, a skin cancer survivor and star of the U.S. Mens National Team in the 2002 World Cup.
Maher currently is teaming up with Virginia Commonwealth Universitys nationally ranked mens soccer team for a series of Sun Safe Soccer clinics. He hopes to organize up to 25 outreach clinics over the next year. Meanwhile, companies are encouraged to sponsor tents displaying their logo, the ASDS logo and Sun Safe Soccer logo that will be used to provide shade for local soccer program participants. More information is available at asds.net/Sun-Safe-Soccer.
About the ASDS

The American Society for Dermatologic Surgery (ASDS) is the largest specialty organization exclusively representing dermatologic surgeons who have unique training and experience to treat the health, function and beauty of your skin. ASDS members are pioneers in the field. Many are involved in the clinical studies that bring popular treatments to revitalize skin and fill and diminish wrinkles to the forefront. Their work has helped create and enhance many of the devices that remove blemishes, hair and fat, and tighten skin. Dermatologic surgeons also are experts in skin cancer prevention, detection and treatment. As the incidence of skin cancer rises, dermatologic surgeons are committed to taking steps to minimize the life-threatening effects of this disease. For more information, visit asds.net.