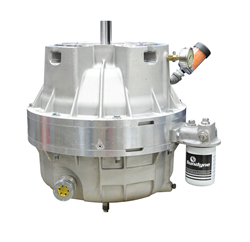 Arvada, CO (PRWEB) April 27, 2015
Sundyne, a leader in the design and manufacture of high head, low flow pumps and compressors for use in the global oil and gas production, refining, petro-chemical and chemical industries, today announced the release of the new Sundyne 33XN gearbox.
A streamlined evolution from the gearbox currently found on Sundynes popular line of integrally geared centrifugal pumps and compressors, the new 33XN gearbox is simplified from the casing up to perform better at every level, thus delivering enhanced performance and reliability.
Built to comply with stringent API 610 bearing conditions, the 33XN delivers a minimum 3 years MTBF thus reducing downtime and the need for costly maintenance overhauls as well as increased resistance to off-peak or upset conditions. Additionally, with no auxiliary lube pump to specify or maintain, the Sundyne LMX / BMX-33XN gearbox is designed specifically for low to medium power applications, including the difficult to achieve 200-225 horsepower rating, based on Sundyne hydraulics.
Capable of delivering between 150 and 275 horsepower, dependent on configuration, the Sundyne 33XN gearbox features the following design upgrades:

Desiccant breather, for preventing excessive moisture build-up within the gearbox;
Gearbox output SundSEAL, which minimizes seal leakage while effectively controlling seal face condition for longer life;
A redesigned bearing plate to improve oil path flow;
An updated internal lube oil pump that locks securely in place and can tolerate much higher radial shaft loads;
And new, more robust anti-friction bearings to increase efficiency and shaft longevity.
The NEW Sundyne 33XN Gearbox is available now. For additional information, visit http://www.sundyne.com. Members of the media interested in meeting with Sundyne can do so at the upcoming Offshore Technology Conference & Expo in Houston, in booth #2765. To arrange a briefing, contact Todd Keefe at tkeefe(at)crosswindpr(dot)com.
About Sundyne:

Headquartered in Arvada, Colo., USA, Sundyne is a leading manufacturer of highly reliable and efficient centrifugal pumps and compressors for use in oil and gas production, refining, petrochemical, chemical, power generation and water processing industries. Sundyne is the world leader in delivering low-flow high-head integrally geared centrifugal pumps and compressors; as well as safe and efficient sealless magnetic drive pumps. Sundyne pumps and compressors meet stringent API and ISO standards. For additional information, visit http://www.sundyne.com. Sundyne is owned and operated by Accudyne Industries.
About Accudyne Industries:

Accudyne Industries is the parent company of Sundyne, and a global provider of precision-engineered, process-critical and technologically advanced flow control systems and industrial compressors that deliver consistently high performance and give confidence to the mission of its customers in the most important industries and harshest environments around the world. Today, Accudyne is powered by more than 2,800 employees at 16 manufacturing facilities, supporting a broad range of industries in more than 150 countries. For more information, visit http://www.accudyneindustries.com.
Contact:

Todd Keefe

Crosswind Public Relations

617-262-1968

tkeefe(at)crosswindpr(dot)com