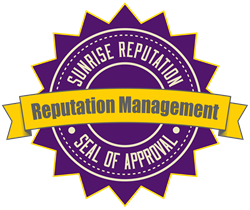 Louisville, Kentucky (PRWEB) April 10, 2014
Sunrise Reputation has announced their expansion to a new market, believing that their company can significantly help the residents of the state of Kentucky. The expansion comes after a long period of analysis and preparation so that the company will be able to serve their new clients in the same exceptional manner they have become accustomed to.
As a part of the expansion, the company has also set out to detail the many reasons why individuals should consider beginning their own reputation management campaign, as many people are simply unaware of the negative impact that a poor online reputation can have.
A lot of our clients have come in and they mention that they were totally astonished by the effect that their online reputation had on their life, said Brandon Hopkins of Sunrise Reputation. Many of them were aware of the negative information being out there, but simply did not take action until they experienced the severity of the effects. It is very scary how impactful a poor reputation can be.
Hopkins also mentioned that it is a goal of the company to educate their prospective clients on the impact the information posted to the Internet can have. The company hopes to help people in the early stages of the problem so that the overall impact is significantly reduced.
We really do not want to see that people wait until after they have been personally affected to seek out our help, said Hopkins. We are absolutely able to help at any stage in the process, but the faster we are able to restore a persons positive reputation, the faster they are able to return to normalcy in their life.
The expansion to Kentucky certainly opens new doors for the company in terms of new clientele. Sunrise Reputation, however, has maintained that their goal is effective and fast service for their clients.
Anytime we bring our services to a new market, we have one simple goal, said Hopkins. We never want to see anyone suffer unnecessarily, so we always work very hard to ensure that our clients will no longer have to deal with the impact that a negative reputation can have.
Sunrise Reputation
Sunrise Reputation was founded with one goal in mind: helping businesses and individuals clean up and maintain a positive online reputation. Sunrise Reputation is an experienced reputation management company that specializes in public relations, marketing, media management, press releases, search engine optimization (SEO) and link building. For more information about Sunrise Reputation or how the company can help you with a reputation problem contact them by phone at 559-871-1613, email brandonchopkins@gmail.com, or online at SunriseReputation.com.