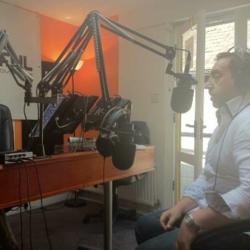 (PRWEB UK) 26 October 2012
Over the past weeks, Stevie and Jaxx have discussed everything from psychometric testing and social media to using internet portals to find your ideal job. In the latest Season 2 episodes five and six, Jaxx wanted to talk with Stevie about the way the economy is affecting the job market and how best to conduct oneself in an interview.
In episode 5, Jaxx asked for Stevies take on recent Government figures that show that employment is up and, in particular, the increasing trend towards part time work.
The latest figures reveal some very positive news, said Hutson, but the Government's definition of part time work I find very curious.
Is it somebody only working two days a week or is it freelancers or what we call 'permlancers' who are working five days a week and growing in their careers? The government statistics are based on what they perceive to be full time employment and not somebody who is working full time but is a freelancer.
Stevie was also keen to talk about the Evening Standards recent campaign to encourage companies to bring back apprenticeships.
I think that is a really impressive thing to do. They are using the power of their newspaper to entice manufacturers and companies to take on apprentices and get the younger generation into work, which is just fantastic.
Hutson dismissed the idea that companies only offering low paid jobs for short periods – for example, Sainsburys taking on apprentices over the Christmas period – was unhelpful.
Here is a fantastic opportunity for 15,000 people who are out of work to get experience. That is exactly what the CEO of Sainsbury's is saying – he wants to make sure that 15,000 people can get work experience so that they can get jobs.
It's not just stacking shelves – there are the fishmongers, the butchers, the bakers and administrative services. You are learning great skills which you can take forward.
In episode 6, Jaxx and Stevie talked interviews, specifically how to behave in an interview and what are some of the things you should never do. Stevie had plenty of advice about how to relax and avoid fidgeting, why you should never point in an interview and how to maintain eye contact for just long enough to make a good impression, but not so long that you look like you are trying to hypnotise the interview panel.
The most important thing is being relaxed, Stevie told Jaxx. Picture that person in front of you as being one of your nearest and dearest.
Interviews are conversations, remember. You need to make sure you are remembered for the right reasons.
Stevie was pleased to have the opportunity to talk about Superstars latest innovation, which will launch on HomeOfSuperstars.com on 31st October 2012 – Mentors.
Mentors in the Superstars sense are very senior leaders in the digital industry and other people like life coaches and financial personnel are coming on to our site and offering free advice to the community, he explained.
We have got some fantastic people coming onto our books and this is all personal. One-to-one.
You go on to the site, see the Mentor button and click on it. There will be pictures and videos on the site of the mentors. Click on them and it will send an email to me and Zoe and we will talk to you and sort it out. If they can't meet you, I will.
Stevie Hutson will be back on Life with Juicy Jaxx on Tuesday 30th October to talk more about the world of employment and to launch the new iStar app from Superstars. You can listen live via the Colourful website or catch up with Stevies previous appearances on the Superstars You-Tube channel.
Superstars is based on a unique new staffing model that eliminates fees and margins forever. Clients work with Talent Managers to get the best staff for their needs and the Talent get amazing opportunities and the best support and mentoring in the industry.
Superstars clients include BSkyB, Orange, Infosys and Radical Company with more being added all the time.
To find out more about Superstars unique staffing model and how it can transform the way you hire staff, contact Steve Hutson – steve (at) homeofsuperstars (dot) com or visit http://www.homeofsuperstars.com