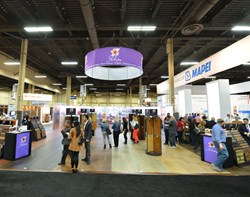 Las Vegas, Nevada (PRWEB) January 30, 2014
Today marks the launch of the floor covering industrys largest trade show. Held annually in Las Vegas, Nevada, this years showcase includes Surfaces, Stone Expo and Tile Expo all under one roof at the capacious Mandalay Bay Convention Center. Each year vendors, manufacturers, distributors, retailers, installers, consumers and many others mingle, and compare new product offerings.
Since 2008 the floor covering industry has enjoyed an improving product market. Optimism amongst exhibitors was high as the annual show opened its doors to attendees. CFS Flooring Corporation showcased its latest extra-wide plank engineered flooring, the Chateau Collection, and soon became a popular destination for those interested in trend setting designs.
CFS Corporation is a national wholesale distributor of wood and laminate flooring. CFS offers cork, bamboo and hardwood solid and engineered flooring along with a wide selection of laminate. CFS is headquartered in Suwanee, GA with distribution warehouses in Calhoun, GA and Oakland, CA. Visit cfscorporate.com for more information.
The international Surfaces event brings together the top players in the industry. Surfaces showcases the best and were proud to be an exhibitor again this year. -Bin Liu, Vice President, CFS Corporation.