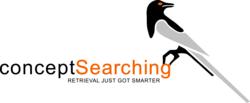 McLean, VA, US and Stevenage, UK (PRWEB UK) 18 February 2013
Concept Searching, a global leader in semantic metadata generation, auto-classification, and taxonomy management software, and developer of the Smart Content Framework, recently completed a survey of its clients as well as the broader marketplace. The survey focused on the use of intelligent metadata enabled solutions within enterprises from diverse industries and sizes. Concept Searchings Smart Content Framework, which is supported by automatic semantic metadata tagging, auto-classification, and taxonomy management technologies, can be readily extended to improve not only search, but also records management, data privacy, migration, and text analytics. The results of the survey indicated the number one priority is improving enterprise search.
With the explosion of unstructured content, enterprise search has become inadequate for the knowledge worker but also renders relevant content inaccessible when applying it to collaboration and text analytics. Organizations are recognizing that search is not a stand-alone technology or application, but must be integrated with business processes and corporate objectives as a key infrastructure component. Regardless of the enterprise search solution, the delivery of meaningful results depends on the ability to effectively index and classify content, and to develop taxonomies to better manage the content. With the unabated growth of unstructured content and the introduction of diverse environments, such as on-premise, cloud, or hybrid, the need to access relevant information is falling far behind organizational needs. Content can exist in multiple repositories, and if not effectively managed increases organizational risk.
Intelligent metadata enabled solutions result in improved information transparency, compliance, governance, preservation and storage of documents of record, securing sensitive information, text analytics, and social networking. Analyzing the Concept Searching client base, all clients initially purchase the technologies to improve enterprise search, by providing the search engine index with the multi-word terms (conceptual metadata) automatically generated from an organizations own corpus of information. Subsequently, they deploy other intelligent metadata enabled solutions to address the issues mentioned above. Looking at the broader marketplace, all organizations surveyed indicated that enterprise search was the number one priority.
In response to the results, Martin Garland, President of Concept Searching, commented, Concept Searching has delivered intelligent metadata enabled search solutions since 2003, integrating its own conceptSearch platform, as well as FAST, Autonomy, SharePoint Search, Google Search Appliance, and Solr. Concept Searchings advanced search platform is currently used by many commercial, federal and DoD enterprise clients.
For more information about the results of the survey and intelligent metadata enabled solutions, please access The Trend Towards Intelligent Metadata Solutions White Paper.
Follow Concept Searching: http://www.twitter.com/conceptsearch
About Concept Searching

Founded in 2002, Concept Searching is now the industry leader specializing in conceptual metadata generation, auto-classification, and taxonomy management. Platform agnostic, Concept Searching is also a Microsoft managed partner with a Gold competency in Application Development, and offers a complete suite of SharePoint solutions. The award winning technologies integrated with Concept Searchings Smart Content Framework encompass the entire portfolio of unstructured information assets in on-premise, cloud, or hybrid environments. Clients have deployed the intelligent metadata enabled solutions to improve search, records management, protection of privacy data, migration, text analytics, eDiscovery, and Enterprise/Web 2.0.
Concept Searching is headquartered in the US with offices in the UK, Canada and South Africa. For more information about Concept Searchings solutions and technologies visit http://www.conceptsearching.com and our Blog, and follow us on LinkedIn.
All product and company names herein may be trademarks of their respective owners.