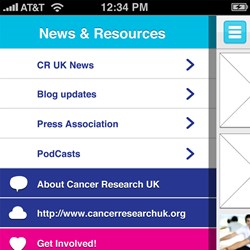 (PRWEB UK) 24 October 2013
Zero Above, a creative design agency based in Essex, initially started building Apps as an innovative means of promoting their services and, most importantly, their sustainable ethos.
Our first creation was a Carbon Monitoring App, says Zero Aboves Simon Isaac, it measured everything from paper consumption to energy usage and travel, at home and at work. Businesses, charities and individuals alike could use it to improve their efficiency, save money, and, vitally, get ahead of the game when it came to environmental awareness.
Soon, Zero Above were designing socially conscious Apps for a wide range of organisations (including creating a new dedicated version for the Church of England, incorporating a prayer/thought for the day), and their skills as socially-conscious developers were starting to gain repute. Most recently, the agency has been developing something entirely new as a bespoke project for Cancer Research UK.
Our work for Cancer Research UK has been really exciting, says Simon. Previously, Zero Above has built websites for charities like Mind, the Renewal Programme, and Enable East, but this was something different; creating a vital information stream for one of the UKs leading charities.
The new App, a specially formulated news feed, is designed to aggregate news from Cancer Research UK for patients, medical professionals, and the media. For the charity, this means improved communications with its contributors and supporters, and for Zero Above, it acts as yet another means of spreading their sustainable philosophy.
"As a sustainable company Zero Above has very strong ethics for both success and performance," adds Simon. "We measure our achievements not just on profitability, but on people and the planet as well. It's really important for us to work with organisations like Cancer Research UK to spread this ethos across the country, to help encourage sustainable living and working together to reduce carbon emissions".
The Zero Above Carbon Monitoring App is available to download free from the Apple App Store or Android Marketplace, or visit http://www.zeroabove.co.uk for more information.
About Zero Above:

Zero Above is a multi-award-winning, Essex-based sustainable design agency which has been carbon-balanced from its creation two and a half years ago. Set up by its working partners, each sharing a vision for sustainable business, the agency offers comprehensive services for brand and marketing strategy, digital marketing, design and print, web design and development, exhibition and signage, and of course mobile App development.
Zero Above approaches every project as a unique piece of work for its clients, and with the skills, commitment and experience in the team, they are able to offer a multi-disciplinary service designed to deliver great results every time.
"We call it Develop-Design-Deliver – and we can deliver the whole process from start to finish, or any stage in isolation depending on your needs."
Visit http://www.zeroabove.co.uk or tweet @zeroabove for further information.
Carbon Monitoring App (CMA):

This innovative business tool was developed by Zero Above in order to create something completely unique that no other agency had done before, while at the same time spreading their sustainable business philosophy across the UK.
Under the ethos of "so simple an adult could use it, so engaging a child would want to", the App allows businesses of all shapes and sizes to monitor and improve their carbon footprint. This in turn will assist in: