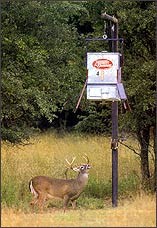 Austin, TX (PRWEB) October 02, 2013
Space Chimp Media (SCM), a leading search marketing and web design agency based in Austin, Texas, announced today that Sweeney Enterprises has selected their team to carry out a fully integrated digital marketing campaign for their line Sweeney Feeders.
Sweeney Enterprisesthe leading, family-owned provider of fish, koi, deer, and wildlife feeders chose SCM to develop and implement a high impact, multi-faceted search-driven marketing campaign that will invigorate sales leads and further establish the company as the industry leader. Sweeney Feeders and SCM will collaborate to create a stronger online presence for the company and grow offline business initiatives through SCMs unique SEO services and online ad management. SCM is also creating a custom website in order to better position the many great products offered by Sweeny Feeders.
The entire Space Chimp Media team is excited to help Sweeney Enterprises gain business insights and further promote their brand in the animal feeder market, says Charles Haggas, Lead Strategist and Co-founder of Space Chimp Media. We are proud to be able to leverage our knowledge and resources to aid in establishing Sweeney Feeders as the trusted leader of animal feeders and customer service.
Sweeney Enterprises specializes in building quality products that meet their customers needs, developing a full-line of reliable, functional feeding equipment, along with timing features to provide their customers with a dependable solution for their wildlife. Sweeney Enterprises has lived by their customer is first motto since opening their business and are renowned for their superior customer relations. Friendly, principled, and deftly in-tune with their customers, Sweeney Feeders has led the way for the fish and animal feeder markets, designing and building state-of-the-art feeding equipment.
About Sweeney Enterprises:
Sweeney Enterprises, Inc. is a 40 year-old, family-owned business that designs, builds and sells quality feeding equipment for animals. The Sweeney family built their first timer over 35 years ago and, with that timer, has established a constant determination to build reliable products that suit their customers needs. With sharp focus on excellent customer service and quality products, the foundation of Sweeney Enterprises, the company is now firmly established as the market leader of feeding equipment for wildlife and fish. Sweeney Feeders, over the years, has become the most valuable provider of feeding equipment in the market. For more information on Sweeney Feeders, please visit http://www.sweeneyfeeders.com.
About Space Chimp Media:
Based in Austin, Texas, Space Chimp Media is a creative marketing agency and web services company focused on integrated and results-driven campaigns. SCM and its brands specialize in eCommerce, mobile application marketing, local business marketing, social media, and business development solutions.