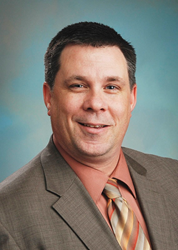 LENEXA, Kan. (PRWEB) March 19, 2015
After conducting a nationwide executive search led by healthcare leadership solutions firm B. E. Smith, Swift County-Benson Hospital in Benson, Minn., has hired Kurt Waldbillig as chief executive officer. A skilled healthcare executive with more than 15 years of leadership experience, Waldbillig will assume his new duties on Monday, March 23.
Kurt brings extensive experience leading rural healthcare organizations, a successful track record in physician recruitment and a dedicated focus on providing high-quality patient care to the community, said Kory Johnson, Swift County-Benson Hospital Board Chair. We are excited to have Kurt join our senior executive team and are confident that under his leadership the hospital will continue to meet the expanding healthcare needs of the community.
Formerly, Waldbillig served as vice president of physician services at St. Alexius Medical Center in Bismarck, N.D. In this role, he provided leadership for an outreach network consisting of seven managed critical access facilities and four affiliated critical access hospitals, as well as the daily operations of the primary care clinics and 12 specialty physician clinics. Previous executive positions include serving as chief executive officer at Sakakawea Medical Center in Hazen, N.D., Jacobson Memorial Hospital in Elgin, N.D., and Richardton Health Care Center in Richardton, N.D.
Swift County-Benson Hospital was seeking a dynamic healthcare executive with comprehensive rural healthcare experience and a proven capability to build strong collaborative relationships with physicians and the community, said Mark Madden, senior vice president of executive search for B. E. Smith, the healthcare executive search firm who conducted the nationwide CEO search for Swift County-Benson Hospital. Kurts experience and leadership style were the perfect fit.
Waldbillig earned a masters degree in healthcare management from the University of Mary in Bismarck and a bachelors degree in social work from the University of North Dakota in Grand Forks. He is a member of the Medical Group Management Association (MGMA).
About Swift County-Benson Hospital:

For more than 100 years, Swift County-Benson Hospital has provided quality personalized healthcare to Swift County, Benson and the surrounding communities. With a strong tradition of excellence, a well-staffed group of family practice physicians, nurse practitioners and outreach specialists work together to deliver a wide range of medical services. For more information about Swift County-Benson Hospital, visit http://www.scbh.org.
About B. E. Smith:

Founded in 1978, B. E. Smith is a full-service healthcare executive search firm and the top-ranked provider of senior-level leadership services including Interim Leadership, Executive Search and Advisory Services. Veteran healthcare recruiters and regional healthcare experts partner with each client to create customized solutions. B. E. Smiths proven methodology has resulted in the recent placement of more than 900 leaders into healthcare organizations worldwide. The firm utilizes a comprehensive sourcing strategy incorporating the latest marketing techniques, association partnerships, social networking and one of the largest databases of skilled senior-level healthcare executives in the industry to deliver immediate results in todays complex healthcare environment. For more information, visit BESmith.com or call 855-254-8261.