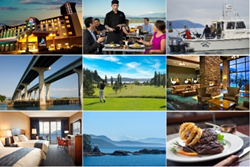 Anacortes, WA (PRWEB) September 30, 2014
Swinomish Casino and Lodge is excited to announce the launch of its new website, which proudly showcases the casinos amenities, activities, and events to engage its target audience. The new website is intuitive and easy to navigate, has a sleek appearance, and boasts visual appeal. It effectively communicates what Swinomish Casino and Lodge stands for and is designed to entice visitors to explore the casinos offerings. The new site is fully responsive, so it offers an optimal viewing experience on all types of devices, from computers to smartphones to tablets.
Over the past two and a half years our property has transformed from a local casino to a true Pacific Northwest destination, said Lodge General Manager, Dallas Widmark. The new website is indicative of that growth and allows us to better communicate the experiences we provide to our guests while spotlighting our beautiful location, amenities, and local activities.
Swinomish Casino and Lodge sought to rebuild its website in order to improve its online presence and make it more interactive, search engine-friendly, and visually-appealing. To successfully engage its website visitors, Swinomish Casino and Lodge teamed up with leading Seattle web design and online marketing firm, efelle creative, to build its new website. The site boasts a slew of captivating features, one of which includes a dynamic slots catalog that uses Isotope functionality to smoothly transition between pages. The catalog showcases all of the slot machines and their features available at the facility.
According to Casino General Manager, Jay Ellenberger, The slots catalog is the first of its kind and the most dynamic game catalog in our industry. Our goal was to provide a robust environment for guests to seamlessly explore their favorite games and detailed information for each title available on our casino floor.
Several pages of the new website feature HTML5 video mastheads with custom videos that were shot on location to highlight the destination and its amenities. The home page features a video that takes users on a virtual tour of the property from the eyes of a guest. All videos are delivered via Rackspace CDN for optimal presentation and speed. The new website also boasts sectioned, full screen photo sliders with on-location imagery.
Additional features of the new Swinomish Casino and Lodge site include parallax footers for the mobile application and testimonial spotlights. The site comes fully equipped with FusionCMS, efelle creatives user-friendly content management system. FusionCMS enables Swinomish Casino & Lodge staff to update the website and add new content quickly and easily. It also has an eService module that highlights different services and a scheduler module that allows guests to register for events and receive automated event reminders. The website is built with SEO best practices in mind, so it strengthens Swinomish Casino & Lodges search engine presence while simplifying the website maintenance process.
About Swinomish Casino and Lodge
Swinomish Casino and Lodge is a full-service entertainment destination that includes a 98-room luxury lodge, 9,000-square-foot event center, 13moons steak and seafood restaurant, Sports Bar, Two Salmon Caf