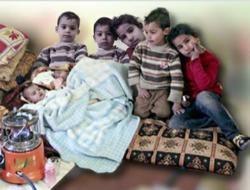 Detroit, MI (PRWEB) September 11, 2012
SEO is joining the Syrian Sunrise Foundation( SSF), Syrian American Society-Michigan chapter(SAMS-MI), Rise4 Humanity in the upcoming event Walk for Humanity: Support Syrian orphans on September 22nd -2012

Location:

26225 Carol, Franklin Michigan,

Date:

September 22nd -2012

8:00 AM -11:00 AM

For online registration

http://www.raceracerace.com
Thousands of children in Syria have become victims of the 18 months Assad regime brutal crackdown and atrocities, where the intensification and the upsurge in the fighting have pushed thousands of traumatized children to flee their home exposing to highly risk condition seeking safer areas in the neighboring countries.

In a report published in Huffington post on May 24th -2012, CNN's Arwa Damon spoke to four children left orphaned by the crackdown, and joined other refugees in Lebanon, speaking about their experiences during the military assault on their hometown, "My mother was crying; she could barely talk," 13-year-old Omar says. "She said, 'Your father died,' and then the phone cut off."

http://www.huffingtonpost.com/2011/05/24/syria-children-orphaned-crackdown-lebanon-_n_866209.html

Dr Rouzana Hares, one of the organizer of the event, and member of the SSF said, one of the most tragic consequences of the 18 months crackdown against Syrians, is the increase in the number of orphans. Children in Syria have been subjected to all kind of brutality, torture, and death by Assad military forces. Given the fact that children are the most incapable and vulnerable target during the conflict, we feel that one of our priorities is to provide those orphans with necessary care, reassurance of safety, help them recover, and support them financially. We are asking people in Detroit area and suburbs to participate in the event: walking for Syria on September 22nd at 26225 Carol, Franklin- Michigan, and generously donate for Syrian orphans.
The calamity of the children in Syria needs immediate help. Your participation in the event' along with a generous donation will make a difference in the lives of thousands of children in need.