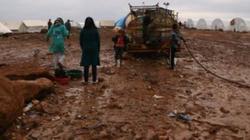 Washington DC (PRWEB) December 24, 2012
Pure Misery this is how the BBC report described the situation in Syrian Refugee camp of Atma, directing the attention to the daily suffering of Syrian refugees, who, according to the same report, had fled from village to village, and came to the final stop of Atma, many have experienced terrible ordeals in Northern Syria where some of the worst atrocities of the war crimes took place. The report delineated the unbearable situation, Women were scooping up handfuls of earth, making little damns to stop water from running into their tents. People struggled uphill, slipping and sliding in mud mixed with sewage.
http://www.bbc.co.uk/news/world-middle-east-20493528

Dr, Abdalmajid Katranji, SEO PR committee and SAMSs board member, said; I am in Atma, trying to extend my help to our people in dire need. I would like to convey my message: the situation requires the attention of aid agencies to provide support. There are numerous refugee camps dotting the countryside. The area has had steady rainfall and near freezing temperatures for about five days straight. No international aid agency present. The support of these refugees and victims has been purely through the donations of private Syrian individuals and Syrian charity groups with some Turkish assistance. Literally a tent city has sprung up in a matter of week right along the border with several thousand individuals. I met with some of them who told me they are not only looking for safety from the brutal regime but they are desperately looking for food. The regime has been specifically targeting bakeries and grain storage facilities. We urge all Media outlets to cover this crisis.

SEO appeals to UNHCR and all international humanitarian organization to immediately provide Syrian refugees in Atma camp -Turkey with winter supplies and aid, and to organize sustainable humanitarian efforts to reduce the daily strain on Syrian refugees, who are striving to survive the harsh winter and the daily atrocities by Assad forces.
The Syrian Expatriates Organization is a leading nonprofit organization of Syrian Americans and Syrian Canadians. Its mission is to support the establishment of a free and democratic Syria. he SEO provides humanitarian relief to those in need and works to promote the social, political and economic development of Syria.