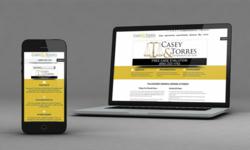 Tallahassee, Florida (PRWEB) June 30, 2013
Casey & Torres, Attorneys at Law, enlists the help of MacPro Services, Tallahassees fastest growing custom web design and development firm, to complete new legal service website.
Local web design firm, MacPro Services, launches new legal website for Tallahassee-based criminal defense firm Casey & Torres. Its WordPress CMS website content management system powers the law firms online presence, SEO improvement, location listings, news blog, attorney profiles, and more.
Casey & Torres, Attorneys at Law specializes in criminal defense, DUI and administrative defense. The dedicated partners at Casey & Torres ensure that each client is represented aggressively and to the full extent of the law.
Casey & Torres enlisted the help of Tallahassee web design firm, MacPro Services, for business branding assistance and to provide a content management system and complete website redesign. In addition to getting a custom website design, MacPro Services also began using on-site SEO and within 3 months, Casey & Torres found themselves on the first page of Google for their desired key phrases. The WordPress platform streamlines administrative tasks and decreases website maintenance costs.
To check out the new site of Casey & Torres, visit http://www.tallahasseedefense.com/.
To learn more about MacPro Services, visit http://www.floridamac.com.
About MacPro Services
MacPro Services is a Tallahassee computer repair and consulting firm that offers PC and Mac computer repair, small business solutions, website design and search engine optimization (SEO). MacPro Services has been in business since 1985 and has served the Tallahassee for over 10 years.