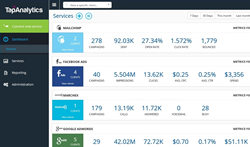 San Jose, CA (PRWEB) December 18, 2014
TapClicks, the digital presence company, today announced version 4.3 of its TapAnalytics platform, a complete digital marketing reporting and analytics platform. TapAnalytics leads with cloud-based, on-demand campaign performance dashboards and reporting for digital agencies and marketers.
The new TapAnalytics 4.3 release, available now, delivers a new integration of a popular display advertising tool, enhancements to existing campaign integrations, new customization power to agencies, data visualization and international currency support.
TapAnalytics 4.3 features:
New Integrations:

SiteScout, a leading self-serve advertising platform for marketing professionals and agencies, with over 60,000 users, 68,000 websites, 70 exchanges, 140,000 campaigns, and 31 billion daily ad views.
Enhanced integrations of digital marketing tools and services:

Google AdWords integration functionality includes eight new campaign tracking metrics, for dashboard and reporting visibility, including impression share.
Google DoubleClick for Publishers (DFP) offers enhanced conversion metrics.
TapAnalytics platform enhancements:

New schema for client grouping in agency-controlled hierarchies, along with easy setup and management, helps digital marketing agencies save time in generating client dashboards and reporting.
Superior data visualization in dashboards, reporting and analytics for both clients and agencies provides results at a glance.
International currency support, for agencies and clients worldwide.
This new release builds on previous versions of the TapAnalytics platform. It quickly integrates marketing campaign data and performance metrics from the following tools and services:

Display Advertising: Google DoubleClick for Advertisers, Google DoubleClick for Publishers, Facebook Ads, AppNexus, The Trade Desk , Rubicon, TubeMogul, Yahoo APT, OAS 24/7, Jivox.
Social: Twitter, Facebook Insights, LinkedIn, Foursquare, YouTube, Vendasta, Yelp, Shoutlet.
Email/Leads: Callcap, Constant Contact, MailChimp, Marchex, ExactTarget, Data-Dynamix, PulsePoint.
SEO/Analytics: Google Analytics, MOZ, Omniture, TruMeasure.
SEM: Google Adwords, Bing Ads.
See http://www.tapanalytics.com/campaign-integration for more information.
Babak Hedayati, TapClicks CEO, states: We are delighted to extend our rich set of integrations to include SiteScout, in the display advertising category. With release 4.3, our TapAnalytics digital marketing reporting and analytics platform continues to evolve to service a broader customer base, which is indicative of our current momentum in the market.
About TapClicks
TapClicks, Inc., the digital presence company, was founded in 2009, and operates out of offices in Silicon Valley, Canada, India and Mexico. The TapAnalytics business unit focuses on performance reporting, digital ROI, and analytics for agencies and enterprises.
For more information, please visit http://www.TapAnalytics.com.