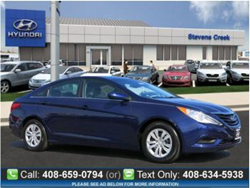 San Jose, CA (PRWEB) January 20, 2015
TapClassifieds today announced TapAuto, a significant expansion of the TapClassifieds program for publishing groups, local media agencies, automotive dealerships, and their partners. TapClassifieds is a proven, go- to solution focused on delivering hard leads, in real time. New TapAuto takes automotive digital marketing to the next level: keeping auto dealers and their agencies up to date on how well their digital marketing campaigns are succeeding, and how to optimize their investments and results.
TapClassifieds: Delivering Immediate, Actionable Leads
TapClassifieds is unparalled in generating and communicating leads, and in tracking sales engagement. With TapClassifieds, auto dealers can watch as new leads are received via email, phone calls, text messages and credit applications. They can see consumer interest and engagement around specific vehicles, whether a car-shopper scanned a QR code for a mobile car-profile or shared a vehicle with a friend using email or popular social networks.
For example, TapClassifieds gave Digital First Ventures another way to ensure their automotive advertisers are reaching potential customers online and via mobile devices. Arturo Duran, Managing Partner at Digital First Ventures, commented, We are thrilled to see the rapid adoption of the TapClassifieds program by our sales professionals. The sales teams love the program because it delivers real, measureable results to their auto dealers. It really works.
New TapAuto: Metrics to Drive Sales Strategy and Investments
The new TapAuto solution, including software and services, is even more than getting buyers in the door and accelerating sales. It shows how investments by local media pay off, with lead attribution, reporting, and analytics. Metrics showing the ROI for various digital marketing channels promote sales strategy wins, based on advanced technology.
The TapAuto advanced analytics platform is based on the popular TapAnalytics digital marketing platform. TapAuto delivers extreme visibility and context for auto dealers and agencies who want to inspect and optimize every thread of every digital marketing campaign.
With TapAuto, for the first time, auto dealers (and those who sell trucks, motorcycles, RVs, planes and boats) can immediately see how every dollar invested in digital marketing is performing. By truly knowing where marketing dollars are being invested, under-performers can be culled and these dollars invested in more effective channels.
The new TapAuto digital marketing power tools feature the following.