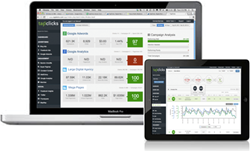 San Jose, CA (PRWEB) April 25, 2014
TapClicks, the digital presence company, today announced version 3.6 of its TapClicks Marketing Analytics Platform, the new industry standard for digital marketing analytics and campaign performance dashboards.
With this new release, TapClicks continues to expand across multiple markets, building upon its success amongst digital agencies and local-media clients. Clients already deploying TapClicks products include Digital First Media, one of the largest newspaper companies in the world; one of the largest yellow page companies; a national agency for TV and radio; a broad-based travel digital agency; and the Star Tribune.
The new TapClicks 3.6 platform adds significant functionality for digital agencies and marketers, and is available now. Among the enhancements are: