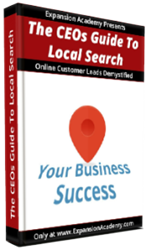 Dallas, Tx (PRWEB) February 28, 2014
Ronda Jordan, director of the Dallas office of Target Public Marketing LLC, announced today that TPM has launched the ExpansionAcademy.com business training website. ExpansionAcademy.com will provide high level but easy-to-understand online business and marketing courses aimed to give business owners mastery over sometimes complex subjects. Interested individuals can now pre-register for the first course, The CEOs Guide to Local Search, which will be online within the next seven days. The course is provided without charge and is based on a book just published by the companys CEO, George Mentis.
CEOs and business owners are busy people and they dont always have time to grasp the intricacies of things like internet marketing, says an impassioned Jordan, who has been with TPM for more than four years. These things can be complex. Local search in particular can be such a boon to any business when it is done properly that its benefits and methodology need to be clearly understood, especially by those in charge.
Jordan also pointed out that more than 80 per cent of all businesses owners and managers that contact TPM dont know how to properly set up their company on local search. Thats why we wrote the book on Local Search and are making it our first course, says Jordan.
The 10,000 word CEOs Guide to Local Search is written in conversational and non-technical language. The online course itself has 13 major topics and is broken down into 25 short, easy modules. Some of the modules for the CEOs Guide to Local Search are: