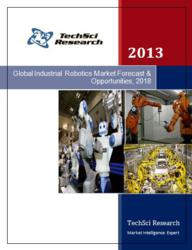 Vancouver, Canada (PRWEB) April 20, 2013
Robotics is the next big disruptive technology with continuously increasing demand for both industrial and service robotics. Robots are used in a wide variety of tasks like assembling in electronic & automobile sectors, machining of metals, plastic parts and handling of all kinds of production capabilities, etc. However, automotive has emerged as the biggest customer for industrial robotics due to the cost saving offered by the technology. The major markets for industrial robotics are United States, China, Japan, South Korea and Germany. However, the demand from emerging economies is also gearing up with the Brazil, India, Russia and Indonesia emerging as new hubs for manufacturing.
According to a recently published report by TechSci Research Global Industrial Robotics Market Forecast & Opportunities, 2018, the global industrial robotics market revenues are expected to cross US$ 37 Billion by 2018. China is anticipated to be the leading demand generator for the industrial robots in the next five years. The industrial robots have emerged as boon for the manufacturing sector as it helps in reducing cost of production with better quality, safety and provide capital savings. The leading players in global industrial robotics market are ABB Limited, Kuka AG, Kawasaki Robots, Fanuc, Epson robots and Staubli robotics.
The market for industrial robots is growing due to the increasing demand of high quality work, increased production, rising wages and automation of the production lines. Earlier, the usage of robots were limited to performing a variety of repetitive tasks but now the robots are also being used in many industries such as ware houses, laboratories, hospitals, food industry, electric vehicles, photovoltaic, pharmacy industry and many more which is continuously driving the demand for advanced robots. This demand and need scenario is gearing up in almost all the manufacturing hubs globally which will make the market revenues cross $ 37 Billion by 2018 said Mr. Karan Chechi, Research Director with TechSci Research.
Global Industrial Robotics Market Forecast & Opportunities, 2018 has evaluated the future growth potential of industrial robotics market in major countries and provides statistics and information on market structure, market trends, market size, etc. The report includes industrial robotics market projections and demand forecasting. The report is intended to provide cutting-edge market intelligence and help decision makers to take sound investment evaluation. Besides, the report also identifies and analyzes the emerging trends along with essential drivers, challenges and opportunities available in industrial robotics market globally.