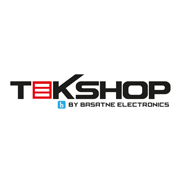 White Plains, NY (PRWEB) May 28, 2013
Online Retailer TekShop, is proud to announce the launch of AskTekShop, a way to help customers understand technology products better. Customers are able to ask any questions about a product and have them answered by the TekShop experts through both social media and the corporate blog.
AskTekShop is our offering to the people who miss the days of going into a small specialty shop and asking the staff which product is right for them, said Ammar Aboulnasr, CEO of TekShop, But instead of going to a store, you can get that level of personalized service from us anywhere you may be – over your computer, phone, or tablet.
TekShop changed its name from Basatne Electronics last month as part of a larger rebranding effort to better reflect the electronic retailers core values and services.
When I started this company in 2009 our business was focused on trade between Asia and North America, and the Basatne name was reflective of that, Aboulnasr Continued. Over the past several years Aboulnasr has expanded his company to offer both the wholesale and retail sales of the highest quality phones, tablets, cameras and lenses.
The company chose the new name, TekShop, to encompass both the online stores product line and quality of customer service. We are not a big box store or the mega online marketplace, we are a smaller shop that relies on the satisfaction of each of our customers. Aboulnasr explained.
In addition to the new name and the helpful AskTekShop service, shoppers will also find a new logo, lower prices, and more choices of add-ons.
Basatne Electronics built their reputation by bringing consumer electronics to local markets first and by offering an extended warranty which rivaled the best manufacturer and in-store warranty programs. TekShop offers the same great products, but the warranty is now an optional purchase making prices even lower and giving consumers more options at checkout.
All products and warranties purchased from Basatne Electronics will continued to be honored through TekShop. For more information or to set up an interview, please contact:
Jessica Wicks

Media Relations Manager

TekShop / Basatne Electronics

media(at)asktekshop(dot)com
About TekShop
At TekShop we love new technology and we love getting it to you first, at a great price. We saw an opportunity to serve a group of people who wanted an alternative to the big box stores, wanted a larger selection of devices, wanted to be free of contracts, wanted actual people to talk to, and in general wanted more choice. We created TekShop to use our connections with manufacturers and put that choice back in your hands. With headquarters in Mississauga, Ontario, Canada and White Plains, NY, USA TekShop serves customers across the globe. For more information visit TekShop.ca